Workup
Laboratory Studies
The diagnosis of pityriasis rosea (PR) is made clinically in most cases. In general, laboratory tests are not necessary or helpful, with a few exceptions.
Changes in the white blood cell (WBC) count and differential, as well as increases in the erythrocyte sedimentation rate (ESR), total serum protein level, globulin level, and albumin level, have been reported but are rare and usually minimal. Test results for rheumatoid factor (RF), cold agglutinins, and cryoglobulins have been normal. When only the herald patch is present, a potassium hydrochloride (KOH) test may be especially useful for helping to diagnose tinea corporis.
Because PR can be confused with secondary syphilis, a rapid plasma reagin (RPR) or Venereal Disease Research Laboratory (VDRL) test should be performed to rule out this condition. Titration of the RPR test is recommended to detect the prozone phenomenon. Other features that would suggest syphilis include patchy alopecia, salmon-colored plaques on the palms of the hands and soles of the feet, diffuse adenopathy, white papules of the oral mucosa, and condylomata lata.
An HIV test should also be considered in these patients.
Positive immunohistochemistry for the severe acute respiratory syndrome coronavirus (SARS-CoV)/SARS-CoV-2 spike protein has been found in a patient with a pityriasis rosea–like eruption, as it has in chilblainlike, urticarial, and erythema multiforme–like lesions of patients with COVID-19. [58]
Skin Biopsy and Histologic Findings
Histologic examination is usually unnecessary, but may be useful in selected situations. A skin biopsy can be obtained when the eruption is atypical, the diagnosis is uncertain, or the disease has not resolved after 3-4 months. It shows nonspecific features of a subacute or chronic dermatitis, but may be helpful in ruling out other diseases in the differential diagnosis.
The biopsy specimen shows superficial perivascular dermatitis (see the image below). Focal parakeratosis in mounds, hyperplasia, and focal spongiosis are observed in the epidermis. [9] The epidermis may show exocytosis of lymphocytes, variable spongiosis, mild acanthosis, and a thinned granular layer. In the dermis, extravasated red blood cells are a helpful finding, along with a perivascular infiltrate of lymphocytes, histiocytes, and eosinophils. A number of monocytes are also commonly present. Histopathologic features of syphilis can be seen in pityriasis rosea [4] ; accordingly, neutrophils in the stratum corneum, plasma cells, interface dermatitis with lymphocytes and vacuoles, and lymphocytes with ample cytoplasm need to be delineated.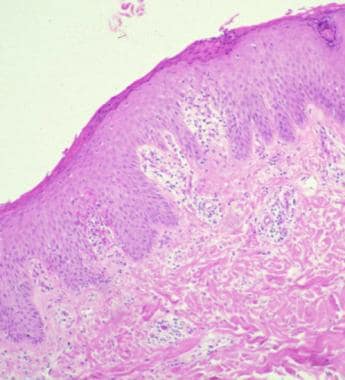 Histopathologic features of pityriasis rosea. Image courtesy of Gary R Kantor, MD, Department of Dermatology, Drexel University, Philadelphia, PA.
The herald patch has similar features but, as a consequence of its chronicity, has a deeper infiltrate and more acanthosis. Such variations as dyskeratotic cells in the epidermis, multinuclear giant cells, and focal acantholytic dysfunction have been observed. These features may closely resemble erythema annulare centrifugum, guttate psoriasis, superficial gyrate erythema, and small plaque parapsoriasis.
What would you like to print?