Presentation
History
Pityriasis rotunda patients are usually asymptomatic. In one review of 64 cases, all patients were undergoing assessment for an underlying medical condition and the lesions of pityriasis rotunda were noted incidentally. Few could remember the duration of the lesions, which varied from 1 week to 2 years.
Physical Examination
Two clinical types of pityriasis rotunda are described. Type 1 affects Asian or black patients older than 60 years old who tend to have associated malignancies or systemic disease. These patients present with few hyperpigmented patches (< 30) that are usually nonfamilial. Type 2 affects white patients younger than 40 years who do not have any associated malignancy or systemic diseases and who present with multiple hypopigmented patches (>30) that show familial incidence. [3, 41, 42]
Lesions range from pink to light-brown, are usually perfectly round but sometimes can be oval, and appear as well-demarcated patches that show fine scaling. They range from 0.5-20 cm and are generally isolated, but the merging of lesions results in a polycyclic configuration.
Several lesions are usually present, ranging from 4-80. One patient had more than 100 lesions.
Lesions are usually present on the trunk, buttocks, and upper and lower extremities. See the image below.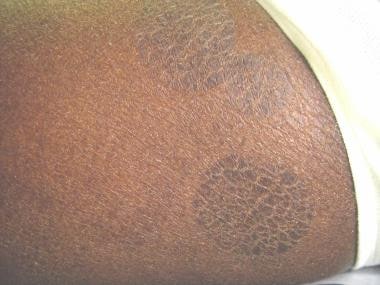 Nearly perfectly round, slightly hyperkeratotic, hyperpigmented, asymptomatic plaque on the trunk.
What would you like to print?