Workup
Laboratory Studies
Scrapings of pityriasis rotunda skin lesions can be examined using potassium hydroxide mount and sent for fungal culture to rule out tinea corporis and other dermatomycoses. [10] Examination with a Wood light is useful in cases suggestive of extraflexural erythrasma.
Imaging Studies
For pityriasis rotunda, use history and physical examination findings directed toward any underlying systemic diseases to guide further laboratory and imaging studies.
Consider investigations into the possibility of hepatocellular carcinoma in black South African patients with pityriasis rotunda. [42]
Procedures
Skin biopsy is often useful to help exclude other diseases listed in Differentials.
Histologic Findings
Histopathological features vary, but they primarily consist of hyperkeratosis and basal layer hyperpigmentation. [42] Hyperkeratosis may present as orthokeratotic or parakeratotic. Other findings may include plugs within hair follicles, a diminished or absent granular layer, pigmentary incontinence, mild spongiosis, elongated rete ridges, and lymphocytic perivascular infiltrate. [10] See the image below.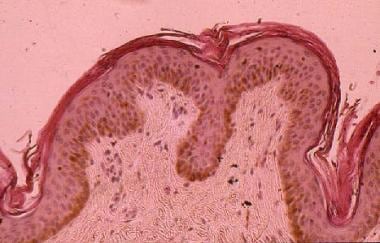 Classic histology for pityriasis rotunda demonstrating mild hyperkeratosis and a reduced granular layer in the epidermis.
What would you like to print?