Workup
Laboratory Studies
The diagnosis of psoriasis is almost always made on the basis of clinical findings. Laboratory investigations are rarely indicated. In severe cases, patients may have mild hyperuricemia and low folate levels, presumably because of enhanced epidermopoiesis.
Skin Biopsy
Skin biopsies can confirm the diagnosis of plaque psoriasis; however, this is usually reserved for the evaluation of atypical cases or for excluding other conditions in cases of diagnostic uncertainty. See Histologic Findings for more details on plaque histology.
Histologic Findings
Epidermis
Mitotic activity of basal keratinocytes is increased almost 50-fold, with keratinocytes migrating from the basal to the cornified layers in only 3-5 days rather than the normal 28-30 days. With hyperproliferation of skin cells, the epidermis becomes thickened or acanthotic in appearance and the rete ridges increase in size.
Abnormal keratinocyte differentiation is noted throughout the psoriatic plaques, as manifested by the loss of the granular layer. The stratum corneum is also thickened, and the retention of cell nuclei in this layer is referred to as parakeratosis.
Neutrophils and lymphocytes can be observed migrating upwards from the dermis into the acanthotic epidermis. Neutrophils may form localized collections known as Munro microabscesses. The presence of alternating collections of neutrophils sandwiched between layers of parakeratotic stratum corneum is virtually pathognomonic for psoriasis. (See image below.)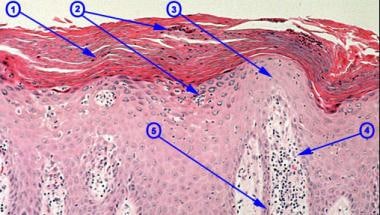 Plaque psoriasis. Photomicrograph of psoriasis. (1) Hyperkeratosis and parakeratosis, (2) neutrophils in the epidermis, (3) thinning of the epidermis overlying the dermal papillae, (4) vessels close to the epidermis, and (5) elongated rete ridges. Courtesy of Richard Crawford, MD, University of British Columbia, Department of Dermatology and Skin Science.
Dermis
Signs of inflammation can be observed throughout the dermis in persons with plaque psoriasis. Marked hypervascularity and an increase in the size of the dermal papillae occur. An activated CD3+ lymphocytic infiltrate is noted around blood vessels, with T cells expressing cutaneous lymphocyte–associated antigen, co-stimulatory molecules such as CD2, and lymphocyte function-associated antigen–1 (LFA-1) adhesion molecules. An aggregation of neutrophils in the dermis occurs that extends up into the epidermis.
What would you like to print?