Treatment
Pharmacologic Therapy for Pustular Psoriasis
There is no criterion standard therapy for pustular psoriasis. Disease severity and extent of skin involvement help guide treatment.
First-line therapies
Current recommendations include initiation of systemic medications together with the proper supportive measures. Oral retinoids (acitretin, isotretinoin), methotrexate, cyclosporine, and infliximab are considered first-line therapies by the National Psoriasis Foundation Medical Board. [29] Hydroxyurea and 6-thioguanine have also been used with success. [30, 31]
In children, acitretin, cyclosporine, methotrexate, and etanercept are options for first-line therapy; however, no randomized controlled trials exist to confirm efficacy. [29]
Second-line therapies
Second-line therapies include biologic agents (etanercept, adalimumab, ustekinumab, secukinumab) or topical treatments (corticosteroids, calcipotriene, tacrolimus) for more localized disease on the palms and soles. [29] An example of the palmoplantar condition is seen in the image below. [32] Guidelines regarding these second-line therapies are needed, as anecdotal reports describe paradoxical induction of pustular psoriasis with some biologics. [33, 34]
Combination therapy with use of a first- and second-line agent can also be considered. [29]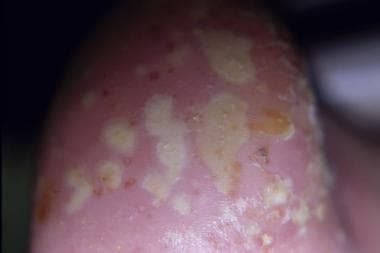 Palmoplantar pustular psoriasis, a type of pustular psoriasis that appears on the palms of the hands or the soles of the feet. Courtesy of Hon Pak, MD.
Newer therapies
The study of IL35RN gene mutations in the pathogenesis of generalized pustular psoriasis has led to new advances in treatment. Case reports have documented success with IL-1 receptor antagonists (eg, anakinra), and clinical trials are currently underway. [35, 36]
Case reports describe the efficacy of the drug tocilizumab in the treatment of biologic-induced plantar pustular psoriasis. [37] Tocilizumab is a monoclonal antibody that blocks IL-6 activity at both soluble and membrane-bound complexes, thus inhibiting IL-6‒dependant STAT1/STAT3 activation. However, reports describe rheumatoid arthritis patients treated with tocilizumab who develop paradoxical biologic-induced psoriasiform dermatitis. [38] Tofacitinib, a Janus kinase inhibitor, has also been tested as a potential therapy for psoriasis, but efficacy in pustular psoriasis is still undetermined. [39]
Pregnancy
Several case reports discuss treatment of pustular psoriasis in pregnancy. Cyclosporine has been used with success in such cases, as well as infliximab (5 mg/kg). [40] The woman on infliximab delivered a healthy female baby via cesarean delivery. The neonate breastfed for 1 month and developed normally. No detectable adverse effects were noted, despite potential exposure to infliximab throughout gestation and breastfeeding. [41]
Phototherapy for Pustular Psoriasis
Also see Guidelines.
Oral psoralen plus UV-A
Patients usually have too much systemic toxicity and erythema during a flare to tolerate oral psoralen plus ultraviolet-A (PUVA). Treatment also requires frequent clinic visits (up to 4 d/wk), which is logistically difficult.
However, several studies have reported that PUVA is safe and effective in controlling flares of pustular psoriasis. Typically, PUVA is started once the patient has been stabilized on acitretin. PUVA has also successfully been used in combination with oral cyclosporine. [29]
UV-B and narrow-band UV-B
While little is written regarding the use of phototherapy for pustular psoriasis, [42] narrow-band UV-B may be a reasonable choice since it has achieved therapeutic effects similar to those of PUVA in other forms of psoriasis.
Retinoid plus PUVA
Acitretin is administered first at 0.2-0.5 mg/kg for 7 days, and then PUVA is added 3 times per week. As lesions resolve, acitretin can be withdrawn, and maintenance phototherapy with PUVA or narrowband UV-B can be continued as needed.
Inpatient Treatment for Pustular Psoriasis
Patients with generalized pustular psoriasis eruptions may require hospitalization to ensure adequate hydration, bed rest, and avoidance of excessive heat loss. Supportive therapy with bland topical compresses and saline or oatmeal baths helps sooth and debride affected areas.
Consultations
Request consultations with medical subspecialists according to the degree of systemic involvement.
What would you like to print?