Presentation
History
Intermittent, active phases of seborrheic dermatitis manifest with burning, scaling, and itching, alternating with inactive periods. Activity is increased in winter and early spring, with remissions commonly occurring in summer.
Active phases of seborrheic dermatitis may be complicated by secondary infection in the intertriginous areas and on the eyelids.
Candidal overgrowth is common in infantile napkin dermatitis. Such children may have a diaper dermatitis variant of seborrheic dermatitis or psoriasis.
Generalized seborrheic erythroderma is rare. It occurs more often in association with AIDS, [21, 22] congestive heart failure, Parkinson disease, and immunosuppression in premature infants.
Physical Examination
The scalp appearance of seborrheic dermatitis varies from mild, patchy scaling to widespread, thick, adherent crusts. Plaques are rare. From the scalp, seborrheic dermatitis can spread onto the forehead, the posterior part of the neck, and the postauricular skin, as in psoriasis. Note the images below.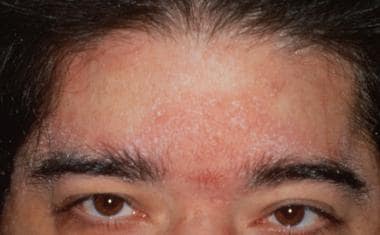 Seborrheic dermatitis affecting the scalp line and the eyebrows with red skin and scaling. Courtesy of Wilford Hall Medical Center Dermatology slide files.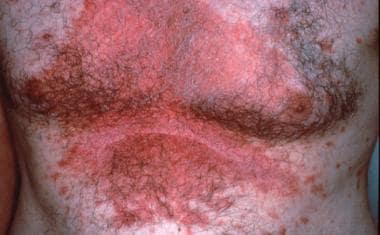 Seborrheic dermatitis may affect any hair-bearing area, and the chest is frequently involved. Courtesy of Wilford Hall Medical Center Dermatology Teaching slides.
Seborrheic dermatitis skin lesions manifest as branny or greasy scaling over red, inflamed skin. Hypopigmentation is seen in dark-skinned individuals. Infectious eczematoid dermatitis, with oozing and crusting, suggests secondary infection. A seborrheic blepharitis may occur independently.
Distribution follows the oily and hair-bearing areas of the head and the neck, such as the scalp, the forehead, the eyebrows, the lash line, the nasolabial folds, the beard, and the postauricular skin. An extension to submental skin can occur. Presternal or interscapular involvement is more common than nonscaling intertrigo of the umbilicus, axillae, inframammary and inguinal folds, perineum, or anogenital crease, which also may be present.
Two distinct truncal patterns of seborrheic dermatitis can occasionally occur. An annular or geographic petaloid scaling is the most common. A rare pityriasiform variety can be seen on the trunk and the neck, with peripheral scaling around ovoid patches, mimicking pityriasis rosea. Note the image below.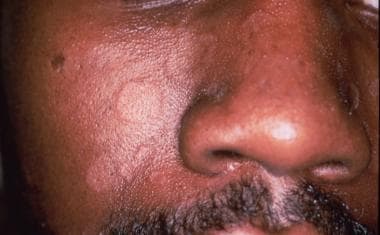 African Americans and persons from other darker-skinned races are susceptible to annular seborrheic dermatitis, also called petaloid seborrheic dermatitis or seborrhea petaloides. Sarcoidosis, secondary syphilis, and even discoid lupus may be in the differential in such cases. Courtesy of Jeffrey J. Meffert, MD.
Causes
The exact pathophysiology remains unclear. Malassezia organisms are probably not the cause but are a cofactor linked to a T-cell depression, increased sebum levels, and an activation of the alternative complement pathway. Persons prone to this dermatitis also may have a skin-barrier dysfunction. [27, 28]
Because seborrheic dermatitis is uncommon in preadolescent children, and tinea capitis is uncommon after adolescence, dandruff in a child is more likely to represent a fungal infection. A fungal culture should be completed for confirmation.
Various medications may flare or induce seborrheic dermatitis. These medications include auranofin, aurothioglucose, buspirone, chlorpromazine, cimetidine, ethionamide, fluorouracil, gold, griseofulvin, haloperidol, interferon alfa, lithium, methoxsalen, methyldopa, phenothiazines, psoralens, stanozolol, thiothixene, and trioxsalen. [2, 3]
What would you like to print?