Presentation
History
The classic skin lesions develop at an early age. Explore the family history for abnormalities suggestive of Vohwinkel syndrome.
Physical Examination
The classic triad is as follows:
Diffuse palmoplantar keratoderma in a honeycombed pattern

Constricting bands of the digits with autoamputation (pseudoainhum)

Starfish-shaped hyperkeratotic plaques on the dorsum of the hands and feet, elbows, and knees (In addition, linear hyperkeratoses may be observed on the elbows and knees.)
Note the images below: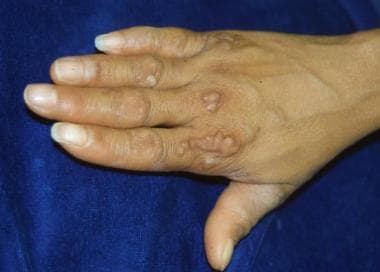 Starfish-shaped plaques.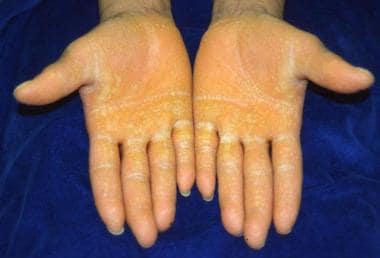 Palmar hyperkeratosis.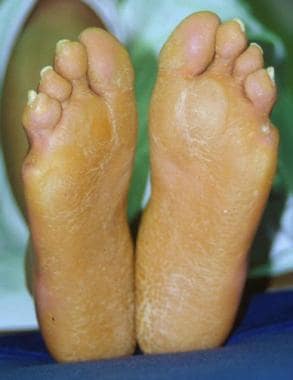 Pseudoainhum.
Rare associated findings include scarring alopecia and nonprogressive sensorineural hearing loss at high frequencies (classic variant).
A case report of two siblings described a probable new variant of Vohwinkel syndrome with congenital hypotrichosis. [10] Cases with mental retardation [11] and an ichthyosiform presentation [12] have also been described.
Complications
Complications can include loss of digit(s) with functional impairment of the limb and hearing loss.
What would you like to print?