Presentation
History
The classic history is that of trauma (eg, abrasion or cut) to the skin and subsequent exposure to contaminated water. Occupations that may predispose individuals to infection with Prototheca species include rice farmers, anglers, aquarium staff, and handlers of raw seafood. [6] In severely immunocompromised individuals, cutaneous lesions can be widespread, and the algae can be present in the blood.
Physical Examination
The skin is the most common site of infection, followed by the periarticular bursae (typically causing olecranon bursitis). The extremities are the most common sites of cutaneous involvement.
Patients typically have an isolated, ill-defined plaque or nodule (see the image below). Large eczematous plaques, pustular lesions, and cutaneous ulceration have also been reported. The lesions may be atrophic, herpetiform, verrucous, or hypopigmented. Bullous lesions may occur with subsequent rupture, drainage, and crusting. Lesions with the appearance of apple jelly have been reported. Erythema and pain may occur. In patients who are immunocompetent, the lesions may be more subtle, with papules or plaques with mild erythema that have been stable for long periods.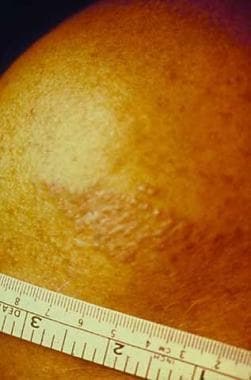 This subtle lesion of cutaneous protothecosis on the shoulder shows an ill-defined, slightly erythematous, thin plaque.
Patients with olecranon bursitis have swelling, mild erythema, and, occasionally, drainage in the vicinity of the elbow. In cases of meningeal involvement, patients may have meningeal signs of headache, nuchal rigidity, and photophobia.
Complications
Failure to eradicate protothecosis may result in an expanded area of skin infection. Rare cases have progressed to disseminated infection, typically in patients who are severely immunocompromised.
What would you like to print?