Workup
Laboratory Studies
A diagnosis of protothecosis can be made based on findings from either biopsy or culture. Prototheca species readily grow on Sabouraud glucose agar. Smooth, white-to-beige colonies typically demonstrate growth within 48 hours at room temperature. Prototheca species may also be cultured on blood agar, heart-brain infusion agar, or beef infusion broth. Commercial assays that rely on the unique components of the cell wall are also available for identification of Prototheca species. It should be noted that certain selective fungal media commonly used to isolate dermatophytes may contain inhibitors such as cycloheximide, which can inhibit the growth of Prototheca.
Protothecosis is a rare infection, often involving individuals who are immunocompromised. An immune status evaluation may be judicious in patients presenting with this disorder.
Prototheca-ID is a web-based application that can assist with speciation of Prototheca isolates. [20]
Other Tests
No other tests are necessary; however, electron microscopy reveals a double-layered cell wall without chloroplasts. These features differentiate Prototheca organisms from other types of algae. In addition, commercial yeast identification systems, such as API 20C and VITEK 2 systems can identify Prototheca. Newer techniques such as the use of matrix-assisted laser desorption ionization time-of-flight mass spectometry (MALDI-TOF MS) can also be used to rapidly identify P wickerhamii. [8]
Histologic Findings
Protothecosis demonstrates morula formation. Typically, the sporangia are 3-30 µm in diameter [6] either outside of the macrophages or within the macrophages. They are best visualized with special stains (eg, periodic acid-Schiff, Gomori methenamine-silver) that are used to highlight fungi. The diagnostic feature of P wickerhamii is the presence of sporangia with a central, rounded endospore surrounded by a corona of molded endospores. The appearance of the sporangia is diagnostic, and it is described as moruloid, daisylike, spokelike, and frambesiform. See the histology slides below.
Histopathologic findings range from minimal inflammation to severe granulomatous inflammation with areas of necrosis. The dermis may contain a variety of inflammatory cells such as lymphocytes, eosinophils, neutrophils, plasma cells, and multinucleate giant cells within the dermis. Prototheca are seen either singly or in clusters within interstitial connective tissue, granulomas, and necrotic foci.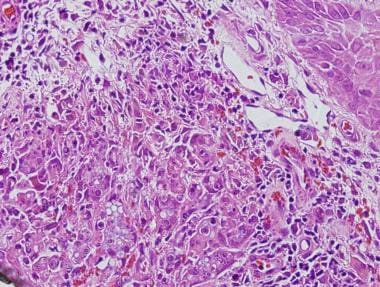 Biopsy reveals morula structures surrounded by lymphocytes and histiocytes (hematoxylin and eosin–stained sections; 200x).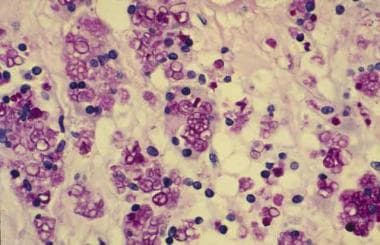 Periodic acid-Schiff–stained sections of protothecosis reveal rounded endospores that form characteristic moruloid structures in the dermis.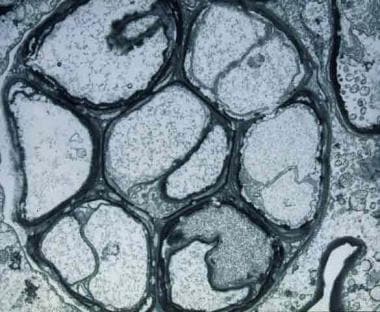 Electron photomicrograph of Prototheca wickerhamii shows a central rounded endospore surrounded by a corona of molded endospores.
The principal histopathologic differential diagnosis is coccidioidomycosis, which also shows a thick, refractile wall. However, the spherules are typically larger and always show smaller endospores (2-4 µm).
What would you like to print?