Workup
Approach Considerations
The diagnosis of scabies can often be made clinically in patients with a pruritic rash and characteristic linear burrows. The diagnosis is confirmed by light microscopic identification of mites, larvae, ova, or scybala (feces) in skin scrapings.
In rare cases, mites are identified in biopsy specimens obtained to rule out other dermatoses. Characteristic histopathology in the absence of actual mites also may suggest the diagnosis of scabies.
Clinically inapparent infection can be detected by amplification of Sarcoptes DNA in epidermal scale by polymerase chain reaction (PCR) assay. [4] In addition, elevated IgE titers and eosinophilia may be demonstrated in some patients with scabies.
A simple, cheap, sensitive, and specific test for routine diagnosis of active scabies is desirable. [42] The expression and purification of S scabiei recombinant antigens have identified numerous molecules with diagnostic potential. Current studies are assessing the accuracy of these recombinant proteins in identifying antibodies in individuals with active scabies and in differentiating them from individuals with past exposure.
Locating Mite Burrows
Burrow ink test
A burrow can be located by rubbing a washable felt-tip marker across the suspected site and removing the ink with an alcohol wipe. When a burrow is present, the ink penetrates the stratum corneum and delineates the site. This technique is particularly useful in children and in individuals with very few burrows.
Tetracycline
Topical tetracycline solution is an alternative to the burrow ink test. After application and removal of the excess tetracycline solution with alcohol, the burrow is examined under a Wood light. The remaining tetracycline within the burrow fluoresces a greenish color. This method is preferred because tetracycline is a colorless solution and large areas of skin can be examined.
Skin Scraping
Definitive testing relies on the identification of mites or their eggs, eggshell fragments, or scybala. [22] This is best undertaken by placing a drop of mineral oil directly over the burrow on the skin and then superficially scraping longitudinally and laterally across the skin with a scalpel blade. (Avoid causing bleeding.) Scraping 15 or more burrows often produces only 1 or 2 eggs or mites, except in a case of crusted scabies, in which many mites will be present. [43]
The sample is placed on a microscope slide and examined under low and high power. Potassium hydroxide should not be used, since it can dissolve mite pellets. Failure to find mites is common and does not rule out the diagnosis of scabies.
Superficial cyanoacrylate biopsy (SCAB) combined with conventional transillumination light microscopy reveals the anatomic features of the scabies mite in detail. It can also distinguish living mites from dead ones, because living mites are mobile on the slide. [44] Scabies mites are seen in the images below.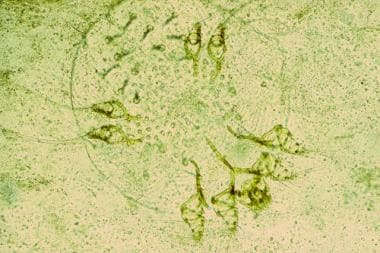 Scabies mite scraped from a burrow (original magnification, 400X).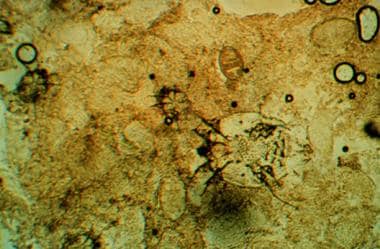 Scabies preparation demonstrating a mite and ova. Courtesy of William D. James, MD.
Crusted scabies
Add 10% potassium hydroxide to the skin scraping. This dissolves excess keratin and permits adequate microscopic examination.
Adhesive Tape Test
Strips of tape are applied to areas suspected of being burrows and then rapidly pulled off. These are then applied to microscope slides and examined. The adhesive tape test is easy to perform and had high positive and negative predictive values, making it a good screening test. The sensitivity of skin scraping was judged to be low.
Dermatoscopy-guided tape testing may be beneficial and should be evaluated. [45] Dermatoscopy was compared with the microscopic examination of a skin scraping and with the adhesive tape test, in patients with a presumptive diagnosis of scabies. [46] The sensitivity of dermatoscopy was 0.83, which was significantly higher than that of the adhesive tape test.
Histologic Findings
The histologic features of scabies are distinctive enough to suggest the diagnosis, although they are common to a variety of arthropod reactions. If a burrow is excised, mites, larvae, ova, and feces may be identified within the stratum corneum, as in the images below.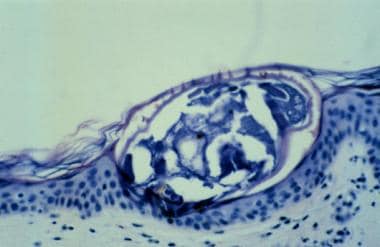 Scabies mite in the stratum corneum. Courtesy of William D. James, MD.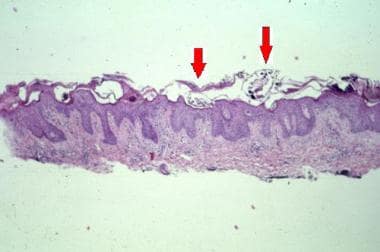 In crusted scabies, sections show multiple mites (arrows) within the hyperkeratotic stratum corneum. The epidermis is spongiotic (hematoxylin and eosin; original magnification, 100X).
A superficial and deep dermal infiltrate composed of lymphocytes, histiocytes, mast cells, and eosinophils is characteristic. Spongiosis and vesicle formation with exocytosis of eosinophils and occasional neutrophils are present, as in the image below. Biopsy of older lesions is nondiagnostic, demonstrating only excoriation and scale crusts.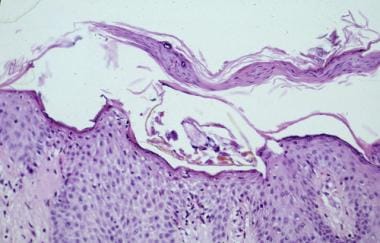 In routine scabies, a single mite is seen. Eosinophilic spongiosis may be present (hematoxylin and eosin; original magnification, 400X).
Crusted scabies
Crusted scabies demonstrates massive hyperkeratosis of the stratum corneum, with innumerable mites in all stages of development. Psoriasiform hyperplasia of the underlying epidermis with spongiotic foci and occasional epidermal microabscesses is present. The dermis shows a superficial and deep, chronic inflammatory infiltrate with admixed interstitial eosinophils.
Nodular scabies
Nodular scabies reveals a dense, mixed, superficial and deep dermal inflammatory cell infiltrate. Lymphoid follicles may be present, and the infiltrate occasionally extends into the subcutaneous fat. Mite parts may be seen on serial sectioning in up to 20% of cases.
What would you like to print?