Workup
Histologic Findings
In early untreated cases, tissue biopsy samples may show a mild chronic inflammatory infiltration; eosinophils, lymphocytes, and histiocytes may surround the microfilariae. Microfilariae are often present without a surrounding cellular reaction. Later cases show hyperkeratosis, parakeratosis, tortuous dermal vessels, dilated lymphatics, and pigment incontinence. An increased number of dermal fibroblasts leads to perivascular fibrosis. In more advanced cases, hyalinized scar tissue replaces the collagen and elastic fibers in the dermis.
The microfilariae have pointed tails, elongated posterior nuclei, paired anterior nuclei, and large spaces between the tip or tail and the first nuclei. They lack sheaths.
Onchocercomas are made up of an outer vascular fibrous stroma embedded with groups of perivascular leukocytes. The inner layer is composed of hyaline connective tissue intermingled with coiled adult worms. A dense cellular infiltrate composed of eosinophils, lymphocytes, macrophages, and giant cells surrounds the worm. The coiled appearance of the worm, the presence of microfilaria in gravid females, and the presence of a gut help in identifying the worm. See the images below.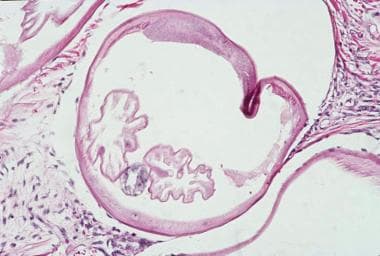 Photomicrograph of a skin biopsy specimen from a patient with onchocerciasis. A worm is shown in cross-section. Courtesy of Brooke Army Medical Center teaching file. All images are in the public domain.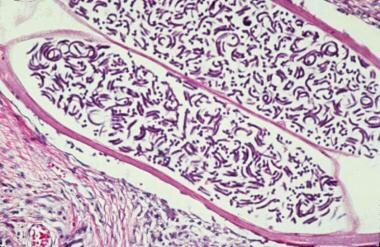 Photomicrograph from a gravid female worm (hematoxylin and eosin]). Courtesy of Brooke Army Medical Center. All images are in the public domain.
What would you like to print?