Presentation
History
When evaluating for erythema toxicum neonatorum (ETN), focus the history on age at onset of the eruption, absence of systemic signs (eg, fever, irritability, lethargy, mucocutaneous involvement), or maternal history of herpes simplex/varicella viral infection, bacterial pyoderma, or candidiasis. [21]
Infants with erythema toxicum neonatorum are otherwise healthy and lack systemic symptoms. The eruption is self-limited with most cases resolving within 5-14 days without residual sequelae. Recurrences are uncommon but have been reported up to the sixth week of life. They tend to be mild in severity.
Physical Examination
Focus the physical examination on location, size, and distribution of macules, wheals, papules, and pustules on the skin. Note the absence of mucosal, palmar, or plantar involvement (ie, non – hair-bearing skin). Signs of systemic toxicity, including hypothermia or hyperthermia, lethargy, and irritability, are not associated with erythema toxicum neonatorum.
Erythema toxicum neonatorum most commonly presents with a blotchy, evanescent, macular erythema, often on the face or trunk.
The macules are irregular, blanchable, and vary in size.
In more severe cases, pale yellow or white wheals or papules on an erythematous base may follow. In approximately 10% of patients, 2-4 mm pustules develop.
Numbers and distribution of lesions vary from a few and widely scattered to numerous and extensive.
Sites of predilection include the most commonly include the trunk, buttocks, and proximal limbs, but lesions may occur anywhere, including the genitalia. [22] Involvement of the mucous membranes and palms and soles rarely occurs.
See the images below.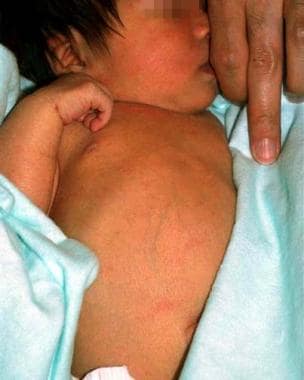 A 5-day-old newborn with erythematous papules with surrounding indistinct blotchy erythema visible on the abdomen. Image courtesy of Jining I. Wang, MD.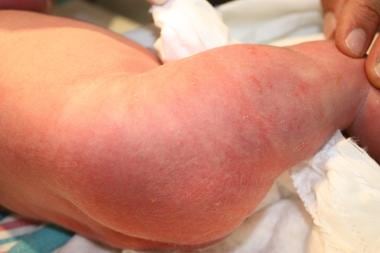 Yellow pustules, some with evidence of rupture, in a full-term infant at 6 hours of life.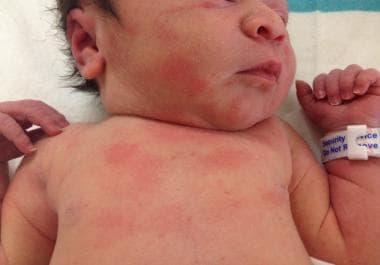 Erythematous blotchy patches localized to the trunk in a neonate.
Complications
Complications of erythema toxicum neonatorum are not commonly reported. However, one reports describes a strong association between erythema toxicum neonatorum and eosinophilic esophagitis. [23]
What would you like to print?