Overview
Background
Granuloma gluteale infantum (GGI), previously known as vegetating potassium bromide toxic dermatitis or vegetating bromidism, is a rare skin disorder of controversial etiology characterized by oval, reddish purple granulomatous nodules on the gluteal surfaces and the groin areas of infants. Lesions can also be found in intertriginous areas (eg, neck, axilla). The long axis of most lesions runs parallel to the skin lines of cleavage or maximum skin tension. The lesions typically are self-limited.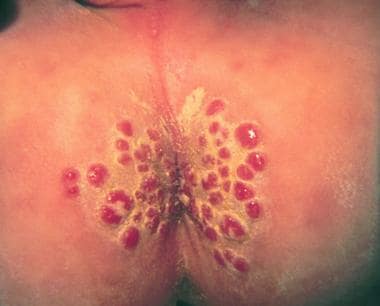 Photograph of a case of granuloma gluteale infantum.
A similar eruption may have been described in 1891, and, in 1962, as vegetating bromidism due to the application of bromide ointment. In 1971, Tappeiner and Pfleger, from Germany, first reported 6 cases of granuloma gluteale infantum. [1] In subsequent years, similar episodes were reported in other parts of Europe, Japan, and the United States.
Similar granulomas have been noted in adults confined to bed and women who overuse vaginal preparations such as Vagisil. These conditions are referred to as pseudoverrucous nodules of the vulva, granuloma gluteale adultorum, and diaper area granuloma of the aged. [2, 3] In contrast to granuloma gluteale infantum, the adult versions are observed only in genitocrural regions and not in intertriginous areas; nodules in the adult versions are often eroded, and they do not show an arrangement parallel to the skin lines. [4, 5]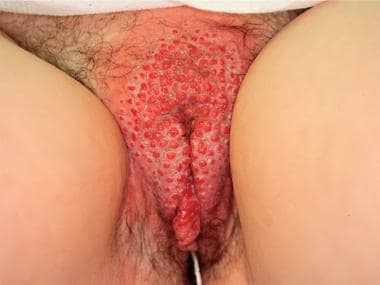 Photograph of a case of granuloma gluteale adultorum.
Advances in absorbent diaper technology using synthetic materials have significantly reduced diaper-associated inflammatory skin conditions in recent decades. Also see Pediatrics, Diaper Rash and Diaper Dermatitis.
Pathophysiology
No systemic association is known.
Etiology of Granuloma Gluteale Infantum
Granuloma gluteale infantum is the result of chronic maceration. Diapering-related items (eg, diapers, plastic pants, paper napkins, laundry detergents, starch, powder), halogenated corticosteroids, candidal infection, and urine and feces are possible contributing factors. [6, 7, 8]
Sparing of deep body folds suggests that contact occlusion is predisposing.
Candida hyphae are detected in skin biopsy specimens obtained from some, but not all, patients. Intradermal testing to Candida albicans antigen does not elicit immediate or delayed hypersensitivity. Serum precipitates to C albicans and Candida parapsilosis are not found.
Most patients, including infants with facial and neck lesions, have previously been treated with a topical fluorinated steroid. This observation suggests a causative role for topical fluorinated steroids in this skin disorder. Absorption of corticosteroid preparations through inflamed skin of the diaper area leads to altered dermal collagen, which, in turn, stimulates an inflammatory response.
Urine can increase the pH of the diaper-covered area, promoting the action of fecal proteases and lipases. Together, urine and feces can irritate diapered skin, increasing its permeability and susceptibility to other irritants. Van et al reported a case related to adult urinary incontinence. [4, 5, 9]
Epidemiology
Frequency
Granuloma gluteale infantum is rare; only approximately 30 cases have been reported worldwide.
Sex
Males have a higher incidence of granuloma gluteale infantum than females.
Age
The condition develops in the diaper area of infants aged 4-9 months.
Prognosis
The lesions persist for 3-6 weeks, followed by spontaneous regression over 2-4 weeks. Residual, brown hyperpigmented macules and lax, atrophic scars are observed in some patients.
Patient Education
Instruct the caregivers of patients to minimize potential contact irritants, which may include cloth or synthetic diapers, paper napkins, plastic pants, and halogenated corticosteroids.
Emphasize to the caregivers of patients the importance of maintaining an intact skin barrier, gently cleansing the diaper area, and protecting the skin from additional trauma.
What would you like to print?