Presentation
History
X-linked ichthyosis (XLI) is seen at birth or in the immediate neonatal period. Most typically, X-linked ichthyosis appears in infancy with scaling on the posterior neck, upper trunk, and extensor surfaces of the extremities. [3] The scalp is often involved. In childhood, the boy who is affected has a "dirty-face" appearance, with an increase in involvement with age.
Atypical X-linked ichthyosis may be associated with a large deletion involving the steroid sulfatase (STS) gene. [23] One patient has been described with scaling limited to the lower extremities as the sole manifestation. Men with X-linked ichthyosis disease-causing deletions appear to be at increased risk of cardiac arrhythmias and self-reported mood problems, the latter attributed to an altered basal ganglia structure. [24]
Physical Examination
Adherent brown scaling is evident in a widespread distribution that often produces a dirty-face appearance, as shown in the images below.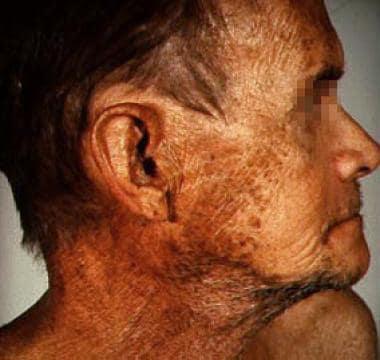 Man with preauricular brownish scaling typical of X-linked ichthyosis.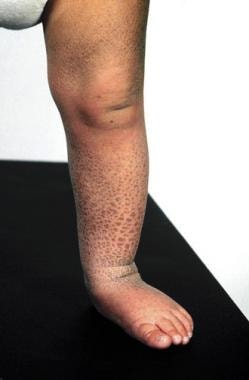 Dirty scale in X-linked ichthyosis.
In early childhood, scaling of the scalp, preauricular skin, and posterior neck may be prominent. Flexures may be involved, but palms and soles are usually spared. Polygonal or "dirty" scaling is typically noted. However, a 2015 study documented children in whom the diagnosis was made incidentally by chromosomal microassay that showed mild phenotypes, sometimes strongly resembling simple mild dermatitis. [25]
As the child ages, the mild scaling evident in the first few days of life becomes more evident and assumes a dirty yellow or brown color with dark, polygonal, firmly adherent scales. [26] This generalized eruption tends to fade on the head but becomes more prominent on the trunk and extremities, particularly on the extensor surfaces of the legs. Scaling has a tendency to be more noticeable in cold and dry weather, improving in the summer months. It may rarely be first evident as erythroderma. [27]
Hair and nails are normal in X-linked ichthyosis.
Corneal opacities may be evident with slit-lamp examination both of adult males who are affected and of women who are carriers. [28] Biomicroscopy may show Meibomian gland dysfunction and stromal corneal opacities. [29] The coma-shaped opacities in the posterior stroma are common findings. [30] Ingordo and associates [22] 2003 assessment of the frequency of X-linked ichthyosis in a large representative sample of the Italian male population revealed that 4 (26.6%) of 15 patients had corneal opacities. No other significant associated changes were noted. Approximately 10% of males who are affected and female carriers have diffuse deposits in the posterior capsule or corneal stroma that does not affect vision. Subepithelial stromal keratopathies or epithelial irregularities are seen uncommonly in X-linked ichthyosis. Unique superficial corneal changes have been seen in one patient.
Cryptorchidism occurs in 20% of patients. A few cases of testicular cancer have developed in patients with X-linked ichthyosis and cryptorchidism.
Central nervous system electroencephalographic changes have been noted in a few patients.
STS deficiency slows the delivery of an infant because of insufficient cervical dilation. A relative failure occurs in the response to intravenous oxytocin. Since both are indications for cesarean delivery or forceps delivery, an increased perinatal morbidity and mortality may occur.
Syndromes of genetic contiguity have been described. As a result of broader chromosomal deletions, they may have X-linked ichthyosis and additional phenotypical abnormalities, which include short stature, chondrodysplasia punctata, mental retardation, and Kallmann syndrome (hypogonadotrophic hypogonadism).
The enzyme steroid sulfatase is normally expressed in the brain, a deficiency of which perhaps accounting for personality differences and an increased risk of psychopathology in affected individuals and female carriers. [31] There is reportedly an association between X-linked ichthyosis and attention deficit hyperactivity disorder and motor disabilities. [11, 32]
What would you like to print?