Presentation
History
Parents of a child with Maffucci syndrome first notice soft, blue-colored growths on the distal aspects of the extremities. Patients with Maffucci syndrome are usually short in stature and may have unequal arm or leg lengths due to the bone abnormalities. In Maffucci syndrome, venous malformations have also been reported in extracutaneous sites such as the leptomeninges, eyes, respiratory tract, and GI tract. The cutaneous vascular malformations may also be present on mucosal surfaces. The lesions typically are compressible, soft, red-blue papules and nodules. [2] As noted in the case of a 12-year-old female patient, endochromas may appear in a single, unilateral extremity. [16]
Physical Examination
Enchondromas usually are found in the hands (89%), but they can be found on, although not limited to, the foot, tibia, fibula, femur, humerus, ribs, and skull. The tumors appear as nodular outgrowths and can cause a fracture, leading to further complications, such as shortened or unequal length limbs. Patients who are severely affected can have difficulty walking and manually manipulating objects. Note the images below.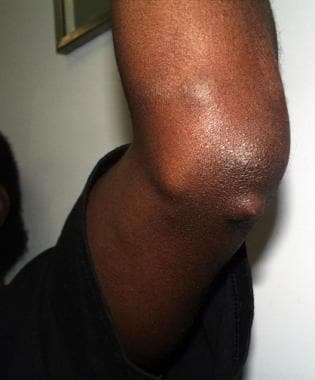 Enchondroma on the left elbow.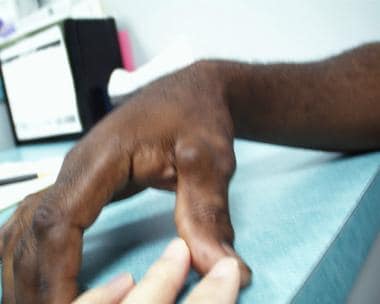 Venous malformations on a patient's right hand.
What would you like to print?