Workup
Approach Considerations
The lead physician must conduct regular physical examinations and monitor for any changes that may suggest the development of chondrosarcomas, the most common neoplasm in this syndrome.
Radiologic evaluation of suspicious areas should be conducted. Evidence of malignant transformation includes cortical destruction, endosteal cortical erosion, and zones of lucency within a previously mineralized area. Note the image below.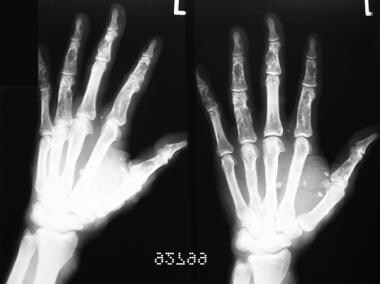 Radiograph of a patient's hands showing enchondromas and phleboliths. Areas of translucency represent enchondromas, and opaque spots represent phleboliths.
A biopsy should then be performed on suspicious radiologic areas. Needle biopsy should provide a diagnosis. Bone biopsy may be needed if the enchondroma is undergoing any changes.
CT and/or MRI can help in the evaluation of the lesion and its surrounding soft tissue.
Chondrosarcomas, the most common malignant neoplasm associated with Maffucci syndrome, are diagnosed by poorly differentiated pleomorphic chondrocytes. [17, 18]
Also see Enchondroma and Enchondromatosis.
Imaging Studies
Sharif et al note that chondral tumors in the setting of enchondromatosis often show certain features in high-grade malignant transformation on magnetic resonance imaging. These features include soft tissue and bone edema as well as periosteal reaction. [19] Serial MRI studies may be a reasonable part of chondrosarcoma surveillance in Maffucci syndrome patients.
What would you like to print?