Presentation
History
Often, only pigmented macules are present at birth, in which case the pustular phase may have occurred in utero. Skin findings can be correlated with gestational age at birth. Post-term infants are more likely to have the late finding of pigmented macules. No systemic symptoms are associated with the skin lesions of transient neonatal pustular melanosis. [6, 13]
Physical Examination
Transient neonatal pustular melanosis is characterized by vesicles, superficial pustules, and pigmented macules.
Because of the fragile nature of the superficial pustules, most are broken during the initial drying or cleansing of the newborn. Intact lesions may remain in more protected areas such as beneath the chin, in the axillae, or in the groin. The vesicles and pustules may desquamate during the neonate's first bath, leaving characteristic white collarettes of scale and brown macules. The vesicopustules resolve within 24-48 hours. [9] The hyperpigmented macules usually fade within 3-4 weeks, although full resolution may take several months. [12] Note the image below.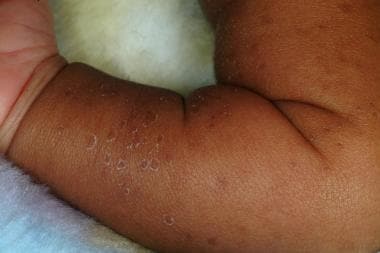 Ruptured pustules and vesicles with remaining characteristic collarette of scale and brown hyperpigmented macules. Courtesy of Anthony J. Mancini, MD.
Depending on the time of the examination in the neonatal period, the vesicles, pustules, and/or pigmented macules may be found predominantly on the chin, neck, or forehead; behind the ears; or on the trunk, palms, and soles. [10]
The lesions are 2-10 mm in diameter. Vesicles and pustules are usually 2-4 mm and are often filled with milky fluid. These lesions lack surrounding erythema. [7, 12]
No systemic signs or symptoms are associated with the skin eruptions.
Papules are not seen in transient neonatal pustular melanosis, but they may be seen in neonates with erythema toxicum neonatorium, acne neonatorum, or miliaria. The vesiculopustular lesions may be similar to lesions seen in acropustulosis. Acropustulosis is also more common in African American infants, but it has a male predominance and pruritic lesions cluster on the palms and soles. [11]
What would you like to print?