Presentation
History
In most cases, fibrodysplasia ossificans progressiva (FOP) starts in early infancy with episodes of soft tissue swelling; however, reports exist of in utero involvement. It may be first evident in an infant as recurrent diffuse soft-tissue scalp and periorbital swelling. [19]
Ectopic bone formation is usually first evident in early childhood in children aged 2-6 years. The main target is the axial musculature, but eventually ectopic bone formation occurs in the ligaments, the fascia, the aponeuroses, the tendons, and the joint capsules. Involvement often demonstrates a proximal-to-distal predilection. Approximately half of the flare-ups seem to be spontaneous, while the other half appear to be trauma related. [20]
Most patients become bedridden by time they are in their 30s.
Chronic neurological symptoms are common in these patients. [21] These findings include neuropathic pain, especially in females (15%). Many had other sensory abnormalities.
Physical Examination
Fibrodysplasia ossificans progressiva (FOP) lesions are characterized by painful, tender, rubbery, soft-tissue indurations, usually precipitated by a trauma. Lesions mainly develop in the paraspinal muscles of the back and in the limb girdles. Some of the tumors undergo ossification, which can also affect the tendons, the ligaments, and the fascia. Widespread arthropathy throughout the axial and appendicular skeleton may be evident. [22]
Characteristics of diagnostic value are a hallus valgus deformity (present at birth), torticollis (due to involvement of the sternocleidomastoid muscle), joint immobilization (due to periarticular ossificans), and a thorax deformity (both lateral and anteroposterior).
Fibrodysplasia ossificans progressiva limited to the maxillofacial region has been described. [23] It may produce a fusion between the mandibular ramus and the zygomatic complex and trismus.
All proximal tibial osteochondromas are a common phenotypic feature. [24, 25] Mobility is restricted because of ankylosis of the spine and the rib cage.
Fibrodysplasia ossificans progressiva is sometimes associated with alopecia and deafness. [26]
Aslan et al reported ankylosis of the jaw and van der Meij et al reported restricted mandibular movement, both associated with fibrodysplasia ossificans progressiva. [27, 28]
Note the images below.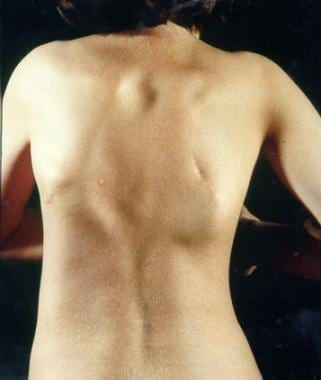 Widespread tumors and indurations mainly in the scapular area, found on radiographic examination to consist of heterotopic bone formation.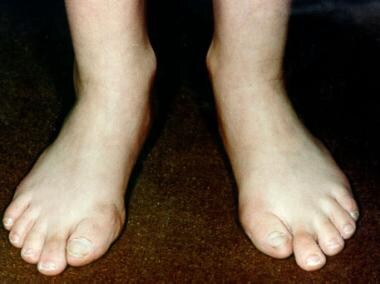 Typical hallus valgus deformity.
What would you like to print?