Workup
Laboratory Studies
The clinical presentation (especially the additional presence of a hallus valgus deformity) is suggestive of fibrodysplasia ossificans progressiva (FOP). Routine biochemical study results of mineral metabolism are usually within the reference range. In fibrodysplasia ossificans progressiva, increased alkaline phosphatase levels are characteristic for children (physiologic growth of the bones).
Imaging Studies
Changes associated with fibrodysplasia ossificans progressiva (FOP) include abnormal formation of the great toe, abnormally shaped long bones with exostoses, and developmental fusion of cervical vertebrae.
The most characteristic features are areas of bony masses penetrating into muscles (mainly the paraspinal region).
CT scanning is the best method for detection of early fibrodysplasia ossificans progressiva lesions. [32] Bone scintigraphy shows an increased uptake of radiolabeled diphosphonate before ossification can be demonstrated by radiographic examination.
CT evaluation may demonstrate heterotopic ossification of the pterygoid muscles, a likely cause jaw restriction and retrognathia in older patients. [33]
Procedures
A biopsy is generally not indicated in fibrodysplasia ossificans progressiva (FOP) because of the frequent development of the lesions in the traumatization area.
Histologic Findings
Histologic examination shows a pronounced proliferation of fibroblasts within the muscles in several areas, leading to destruction of muscle fibers. Predominate mononuclear cell infiltrates are present within the muscles and in the subcutaneous connective tissue, with extensive proliferation of connective tissue fibroblasts replacing damaged muscle fibers, plus areas of newly formed bone tissue. In the center of fibrous material, bone or cartilage tissue may be detected. The well-developed osseous lesions show a typical picture of mature bone with Haversian systems. The muscle fibers usually secondarily degenerate. Smooth muscles are not involved. Note the image below.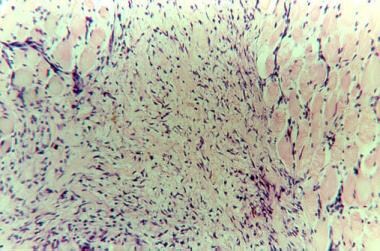 Proliferation of fibroblasts within the muscle with partial replacement of the muscle fibers.
What would you like to print?