Workup
Laboratory Studies
In acute hemorrhagic edema of infancy (AHEI), routine laboratory tests are nondiagnostic, although the following may be performed to exclude other conditions:
Urinalysis results usually are normal.

Hematologic studies (eg, blood cell counts, clotting studies) are often normal, although leukocytosis and thrombocytosis may be found. [37]

Serum complement levels are normal.

Liver function test results may rarely be elevated. [39]

Serologic studies are unremarkable.
Imaging Studies
No imaging studies are necessary in the workup for acute hemorrhagic edema of infancy (AHEI).
Histologic Findings
Acute hemorrhagic edema of infancy (AHEI) is an immune complex-mediated leukocytoclastic vasculitis, usually limited to the small blood vessels of the dermis. [18] The characteristics of leukocytoclastic vasculitis are demonstrated as vascular changes with a perivascular infiltrate consisting primarily of neutrophils; nuclear dust is commonly seen. Vessels show swelling of their endothelial cells and deposits of fibrin within and around their walls, resulting in a "smudgy" appearance termed fibrinoid degeneration. Typically, extensive extravasation of erythrocytes is present.
Direct immunofluorescence studies in patients with AHEI reveal depositions of various immunoreactants, including fibrinogen, immunoglobulin A (IgA), immunoglobulin G, immunoglobulin M, immunoglobulin E, and complement C3 deposition [5] in the wall and around small vessels. Similar deposition of C1q complement also was present in 3 infants in whom C1q complement could be studied (100%). Of the immunoglobulins, IgA deposition is the most common, although this finding occurs in only 10-35% of AHEI cases, [37] thus helping to differentiate AHEI from Henoch-Schönlein purpura.
Note the image below.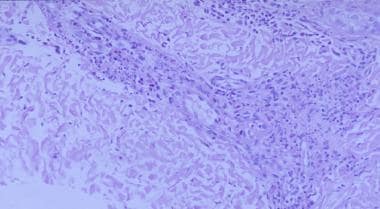 Leukocytoclastic vasculitis and fibrinoid necrosis is seen in patients with acute hemorrhagic edema of infancy. This histologic pattern also is seen in Henoch-Schönlein purpura, although patients with Henoch-Schönlein purpura usually have immunoglobulin A deposition, and immunoglobulin A deposition is demonstrable in only approximately one third of patients with acute hemorrhagic edema of infancy (hematoxylin and eosin, magnification X40).
What would you like to print?