Workup
Procedures
Skin biopsy specimens can be examined under light microscopy and electron microscopy. Take biopsy samples from regions of maximal hyperkeratosis because areas of mild scaling are less reliable for histopathologic analysis and findings may be indistinguishable from those of normal skin. The thickest scales are usually found on the anterior aspect of the lower leg.
Histologic Findings
The histological appearance of both hereditary ichthyosis and acquired ichthyosis is practically identical. The stratum corneum shows compact hyperkeratosis, although some areas can be laminated. Follicular plugging may be present and represents associated keratosis pilaris. The granular layer is usually one-layer thick or absent. Ichthyosiform sarcoid, a manifestation of acquired ichthyosis in sarcoid patients, has the additional presence of multiple noncaseating granulomas in the dermis. Note the image below.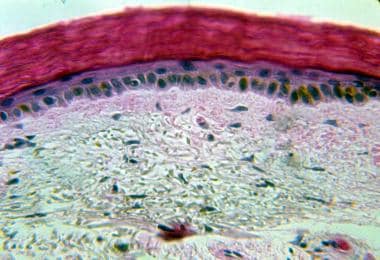 Hematoxylin and eosin staining of acquired ichthyosis vulgaris in an adult. Shows epidermal atrophy with thinning of the granular layer. No dermal infiltrate is evident.
Ultrastructural studies show reduced or absent keratohyalin granules housed in the granular layer. They appear spongy or crumbly, most likely due to defective keratohyalin synthesis. The hyperkeratotic portions of the stratum corneum have a normal keratin pattern.
What would you like to print?