Overview
Background
Incontinentia pigmenti is an X-linked dominant neurocutaneous syndrome with cutaneous, neurologic, ophthalmologic, and dental manifestations. Garrod reported the first probable case of incontinentia pigmenti in 1906 and described it as a peculiar pigmentation of the skin in an infant. Subsequently, Bloch and Sulzberger further defined the condition in 1926 and 1928, respectively, as a clinical syndrome with a constellation of unique features that includes typical cutaneous manifestations. Note the images below: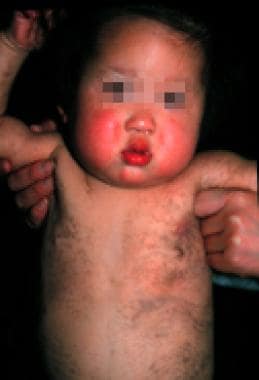 A 7-month-old female infant with incontinentia pigmenti. Brownish pigmentation in a linear whorled or reticular pattern is present on the trunk.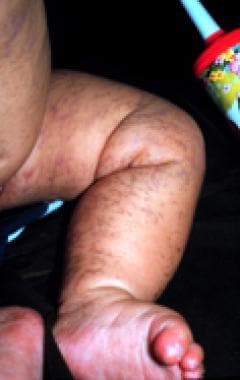 A 1-year-old girl who first presented with incontinentia pigmenti when she was aged 7 months. Note that the pigmentation on the left thigh and leg is similar to that on the trunk.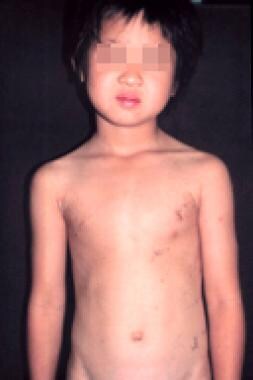 A 6-year-old girl who first presented with incontinentia pigmenti when she was aged 7 months. Note that the brownish pigmentation on the trunk has largely disappeared, and a small area of pigmentation is left.
Pathophysiology
Incontinentia pigmenti is an X-linked dominant genodermatosis characterized by abnormalities of the tissues and organs derived from the ectoderm and neuroectoderm and represents a type of ectodermal dysplasia. Involvement of the skin, hair, teeth, and nails is seen in conjunction with neurologic and ophthalmologic anomalies. In female incontinentia pigmenti patients, lyonization results in functional mosaicism of X-linked genes, which is manifested by the blaschkoid distribution of cutaneous lesions. [1] Cells expressing the mutated X chromosomes selectively eliminate around the time of birth; therefore, females with incontinentia pigmenti have an extremely skewed X-inactivation pattern. Normal X chromosomes are active in unaffected skin, and mutated X chromosomes are active in skin affected with incontinentia pigmenti.
Epidemiology
Frequency
United States
No incidence or prevalence data are available on incontinentia pigmenti in the US population.
International
Incontinentia pigmenti is an uncommon disease. Up until 1987, only 700 cases had been reported in the literature. The disease is probably underreported because many mild or uncomplicated cases are likely unrecognized.
Race
Incontinentia pigmenti has a worldwide distribution. Incontinentia pigmenti appears to be more common among white patients, but it has also been reported in blacks and Asians.
Sex
Incontinentia pigmenti is an X-linked dominant, male lethal syndrome. More than 95% of reported cases of incontinentia pigmenti occur in females. Incontinentia pigmenti may rarely occur in males with Klinefelter syndrome (XXY syndrome) or as a result of somatic mosaicism or hypomorphic (less deleterious) mutations in the NEMO gene. [2, 3]
Age
Characteristic skin lesions compatible with the early, vesicular and/or verrucous stages of incontinentia pigmenti are present at birth or develop in the first few weeks of life in approximately 90% of patients. The cutaneous manifestations of the hyperpigmented stage develop during infancy and persist during childhood. The hyperpigmented lesions usually fade during adolescence. The cutaneous manifestations of the atrophic/hypopigmented stage develop during adolescence and early adulthood and persist indefinitely. Hair, nail, and dental anomalies often first manifest during infancy and are permanent. Late-onset incontinentia pigmenti is occasionally reported in older infants. Neurologic and ophthalmologic sequelae often manifest during early infancy.
What would you like to print?