Workup
Laboratory Studies
Leukocytosis and eosinophilia may be noted. When acute inflammatory skin changes are present, eosinophilia (≤80%) may be seen in the peripheral blood. Evidence of neutrophil dysfunction (defects in chemotaxis), lymphocyte dysfunction (decreased proliferation in response to mitogen stimulation), and altered immunologic reactivity has been reported in some patients. Quantitative immunoglobulin levels and lymphocyte subpopulation counts are normal.
Imaging Studies
Head CT scanning and brain MRI [54] may demonstrate cerebral edema, hydrocephalus, structural brain abnormalities, cerebral infarctions, and hypointense areas or hypoattenuation.
Magnetic resonance spectroscopy and angiography have demonstrated reduced cerebral blood flow and elevated cerebrospinal fluid lactate levels, consistent with cerebral ischemia secondary to cerebrovascular occlusive events. [55]
Single-photon emission CT scanning may show decreased cerebral blood flow. [56]
EEG is helpful for localizing CNS lesions and epileptogenic foci in patients with seizures.
Other Tests
Procedures
Skin biopsy may be diagnostic if performed during the early vesicular and verrucous stages of incontinentia pigmenti (stages 1-2).
Histologic Findings
Stage 1 (vesicular)
Spongiotic dermatitis with eosinophil-filled intraepidermal vesicles and an eosinophilic epidermal and dermal infiltrate are seen. The epidermis often contains dyskeratotic cells, either singly or in small clusters.
Stage 2 (verrucous)
Acanthosis, papillomatosis, and hyperkeratosis with increased numbers of dyskeratotic cells, which sometimes form whorled collections, [57] are seen. Basal cells show vacuolization and a decrease in melanin content. Eosinophils can persist in the epidermis and dermis, and melanophages are often present in the papillary dermis.
Stage 3 (hyperpigmented)
Melanin deposition in melanophages within a thickened papillary dermis is seen. Colloid bodies in the papillary dermis, dyskeratotic cells in the epidermis, and basal cell layer vacuolar changes may be seen. The histologic findings are often suggestive of incontinentia pigmenti but are not specific.
Stage 4 atrophic/hypopigmented)
Atrophic epidermis with loss of the normal rete ridge pattern and dermal eccrine structures and hair follicles with a reduction in basal melanocytes are seen. Colloid bodies and scattered apoptotic bodies in the epidermis may also be seen. Although the histologic findings are nonspecific, they may be helpful in confirming a diagnosis of incontinentia pigmenti in an adult female with a suggestive clinical history. [58]
Note the images below: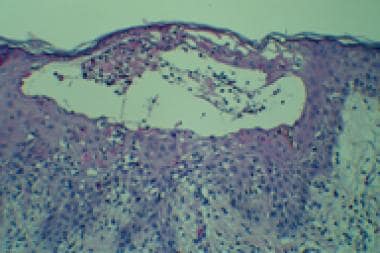 Histologic features of a vesicle in a 20-day-old female neonate who presented with incontinentia pigmenti. The epidermis shows acanthosis, spongiosis, and vesicles, which contain an inflammatory infiltrate that includes eosinophils. The epidermis between the vesicles also shows dyskeratotic cells, either singly or in small clusters (hematoxylin and eosin, original magnification X100).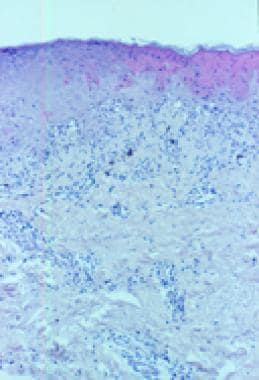 Histologic features of the pigmented skin from a 6-year-old girl with incontinentia pigmenti. An inflammatory infiltrate that includes eosinophils is present in the epidermis. Many melanophages are seen in the upper part of the dermis (hematoxylin and eosin, original magnification X100).
What would you like to print?