Presentation
History
Symptoms develop progressively and slowly with neurologic (eg, mild peripheral intermittent neuropathy, tinnitus, anosmia) and ophthalmic (eg, failing vision, night blindness as a result of progressive retinitis pigmentosa) manifestations.
Ichthyosis may accompany, but most often follows, the occurrence of the above symptoms.
Physical Examination
Pertinent physical findings include neurologic, ophthalmic, cardiac, and skin defects.
Neurologic/ophthalmologic signs are as follows (see image below):
Partial intermittent sensorimotor polyneuropathy

Concentric constriction of the visual fields
Signs resulting from cerebellar ataxia are as follows:
Cardiomyopathy with a serious conduction defect is a life-threatening sign. [19, 20]
Hepatic/renal symptoms are clinically silent despite fatty degeneration.
An ichthyosiform desquamation occurs, resembling a mild acquired ichthyosis vulgaris with a fine, white scaling that is noticeable over the lower trunk but also affects the limbs. Ichthyotic symptoms may range from mild hyperkeratosis of the palms and soles to severe scaling of lamellar ichthyosis type observed on the trunk.
Skeletal defects (noticed in some patients) are not related directly to phytanic acid levels. These defects occur in 35-75% of cases. The knees, elbows, and short tubular bones of the hands and feet are affected (see image below); in particular, the terminal phalanx of the thumb also is affected. Enamel defects have been described in a case report. [21]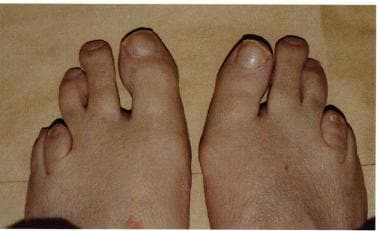 Abnormal second and third toes with a shortened fourth metatarsal. Courtesy of Hari Jayaram, via Wikimedia Commons.
What would you like to print?