Presentation
History
Hartnup disease is manifested by a wide clinical spectrum and phenotypic heterogeneity (see Physical for a complete discussion of the clinical signs). [23, 24, 29]
Most children with the Hartnup defect remain asymptomatic.
In Australia, an 8-year follow-up study of 12 patients found only 2 clinical episodes that may be ascribed to Hartnup disease; mental development of all of the children was normal. In the United States, a full-blown picture of the disorder is rarely seen, probably because the diet of US residents is adequate. [24]
Patients who are symptomatic present with episodic deterioration of neurologic and dermatologic manifestations. Symptoms progress over several days and last for 1-4 weeks before spontaneous remission occurs.
Cutaneous signs usually precede the neurologic manifestations, but in rare patients, neurologic manifestations can precede skin changes. [25, 16]
Psychiatric symptoms (eg, anxiety, emotional instability, mood changes) are common in patients who are symptomatic. Psychotic episodes and delirium are rarely seen.
Physical Examination
Photosensitivity occurs (see the image below).The skin reddens after exposure to sunlight (see the image below). Further exposures lead to the development of dry, scaly, well-marginated eruptions, sometimes resembling chronic eczema. This eruption preferentially affects the forehead, the cheeks, the periorbital regions, the dorsal surfaces of the hands, and other light-exposed areas.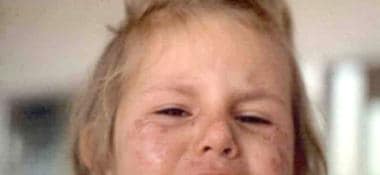 Photosensitivity with erythema, desquamation, and hypopigmentation and hyperpigmentation on the face.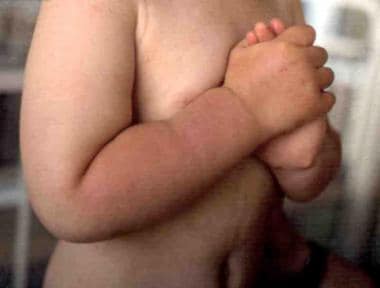 Erythema and desquamation on the sun-exposed area of the right arm.
Lesions on the face may resemble the malar rash of lupus erythematosus.
A vesiculobullous eruption with exudation may occur.
Skin changes leave long-lasting hypopigmentation and/or hyperpigmentation, which are intensified with further sunlight exposure.
One case with widespread cutaneous eruption resembling acrodermatitis enteropathica was described, [30] as well as a patient with manifestations of kwashiorkor and acrodermatitis enteropathica but with normal zinc levels, which led to the search for other metabolic disorders, and Hartnup disorder was confirmed. [31]
In two patients with celiac disease, Hartnup disease was found in treatment-refractory celiac disease. In both patients, exfoliative erythroderma of malnutrition developed and it resolved after a high-protein and gluten-free diet was instituted. [32, 33]
Central nervous system findings [34]
Mental development is normal in most patients, but mental retardation (intelligence quotient of 50-70) is described in a few patients. Of 1087 patients screened for the detection of inherited metabolic diseases from the Alexandra Institute for persons with mental retardation in Cape Town, Hartnup disease was found in only 1 patient. [35]
Neurologic symptoms may vary and are fully reversible. Intermittent cerebellar ataxia, a wide-based gait, spasticity, delayed motor development, and tremulousness are the most frequent findings. Headaches and hypotonia may also occur. [24, 29, 36] Late-onset seizures and adult-onset Hartnup disease with neurologic manifestations as the first signs have been described, with pellagralike skin lesions developing after the neurologic symptoms. [25, 16]
Other findings
Ocular manifestations include double vision, nystagmus, photophobia, and strabismus. [29]
Gingivitis, stomatitis, and glossitis suggest niacin deficiency. [3, 34]
Diarrhea occasionally precedes or follows attacks of the disease. [3, 34]
Short stature has been described. Wilcken et al found that of 14 patients with Hartnup disorder who were observed for 8 years, 10 had height percentiles less than the midparent height percentiles, while 4 had percentiles equal to or above the midparent percentiles. [24]
Complications
Complications are as follows [3, 23, 36] :
Severe CNS involvement may rarely lead to death in the first years of life.

Psychotic episodes and delirium are described in a minority of patients.

Mild mental retardation is described in only a few patients.

Long-lasting hypopigmentation and/or hyperpigmentation of the skin are seen with repeated exposures to sunlight, which should be avoided by using proper photoprotection.
What would you like to print?