Workup
Imaging Studies
Perform neuroimaging studies in all patients with encephalocraniocutaneous lipomatosis (ECCL).
Enlargement of the lateral ventricle, the intracranial cysts, atrophy of the cerebral hemisphere ipsilateral to the cutaneous lipomatous hamartomas, and intracranial lipoma were the most common findings on CT scan or MRI of the head. [28, 29] In a comprehensive review of 52 patients from the literature, Moog et al found 33 (64%) who showed intracranial lipomas, frequently of cerebellopontine location. [30] See the image below.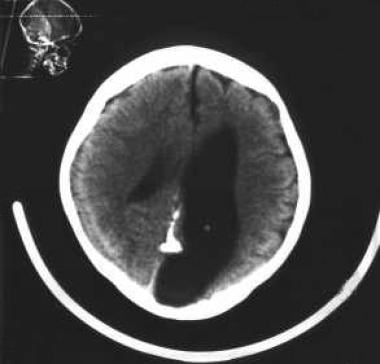 CT scan shows an enlargement of the left lateral ventricle in a child with Haberland syndrome. Note an asymmetry of the hemispheres and calcifications in the midline.
Other alterations, including pontocerebellar atrophy, endocranial hypertension, porencephaly, perimedullary lipomas, and partial agenesis of the corpus callosum, also have been reported. Cortical calcifications and areas of cortical dysplasia have been documented in several patients. It has been proposed that some of those changes may result from focal vascular defects. [16] The serial imaging studies demonstrated the progression of CNS abnormalities.
There are also reports of low-grade gliomas in four patients with encephalocraniocutaneous lipomatosis. [31] In all cases, gliomas were located in the midline, in hypothalamic and suprasellar regions.
Due to the possible presence of extradural spinal cord lipomatous lesions, some authors suggest screening for spinal abnormalities in asymptomatic patients. Spinal lipomas have been documented in 12 of 13 patients who had imaging studies of the spine. [30] They can extend over the whole length of the spinal cord, but most of them remain asymptomatic. Some patients may develop multiple cystic bone lesions. [32]
A pediatric glioblastoma was described with Haberland syndrome. [33]
Neurologic symptoms do not appear to be related to the extent of neuroradiologic abnormalities. Most patients had extremely extensive cerebral abnormalities with only minimal symptomatology.
Histologic Findings
Skin-colored papules predominantly affecting the eyelids, forehead, and cheeks represent fibrolipomas, angiofibromas, papillomas, connective tissue nevi, or hamartomatous tissue consisting of cartilage, fat, and connective tissue. Biopsy specimens taken from the alopecic area of the scalp reveal focal dermal fibrosis associated with increased amounts of subcutaneous fat extending into the upper reticular dermis. The cutaneous and ocular findings are limited to 1 hemicranium and are ipsilateral to the developmental defects of the brain.
The histologic examination of the brain performed in a case reported by Haberland and Perou revealed a defective lamination of the cerebrum, polymicrogyria, and calcification in the outer cerebral cortex overlying the porencephalic cyst. [1]
What would you like to print?