Presentation
Physical Examination
Atrophia maculosa varioliformis cutis (AMVC) may begin with a slight erythema and mild pruritus, followed in 1-2 days by a scar that does not change in size or shape. The shapes of the scars or depressions have been described as linear, round, irregularly round, and varioliform. They are sharply demarcated, flesh-colored shallow depressions of 1 mm subjective depth and may be located bilaterally on the temporal, infraorbital, buccal, mandibular, and mental regions. Most patients are asymptomatic. [13]
The most frequently involved sites are the bilateral buccal regions (ie, the cheeks). The scars are almost always located on the face. The length of the scars varies from 2 mm to 1.3 cm, and the width varies from 1-2 mm. These shallow pit marks are arranged parallel, perpendicular, and curvilinear to one another. The depressions are devoid of pigmentary changes from the surrounding skin. Note the images below.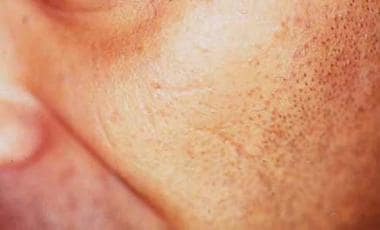 Atrophia maculosa varioliformis cutis on the cheek presents as curvilinear sharply defined scars or depressions of varying lengths.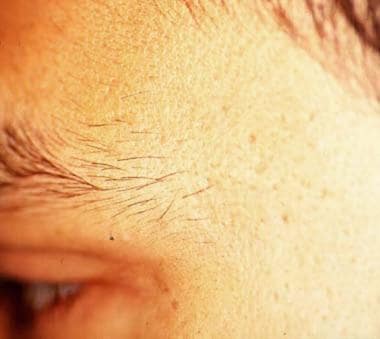 Round well-demarcated varioliform scars of atrophia maculosa varioliformis cutis on the temple.
Patients usually do not have facial milia, comedones, papules, or cysts. Patients deny a history of scarring secondary to acne or varicella infection, and they deny the presence of a preceding skin lesion, except for the slight erythema that fades upon scar formation. The remainder of their skin examination is unremarkable.
Because atrophia maculosa varioliformis cutis can run in families, physical examination of family members may be helpful to rule out a familial disorder and discover other family members with the disease.
What would you like to print?