Workup
Procedures
A skin biopsy specimen from the atrophia maculosa varioliformis cutis (AMVC) patient may be sent for histological examination, including special stains for collagen and elastic fibers. An ultrastructural study on the tissue specimen may be considered to help diagnose the disorder and to rule out other diseases in the differential diagnosis.
Histologic Findings
Skin biopsy specimens show decreased or fragmented elastic tissue in the superficial and mid dermis and occasional epidermal thinning or slight epidermal depressions or dells. Note the image below.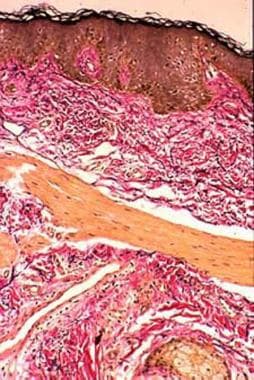 Histopathology of atrophia maculosa varioliformis cutis shows multiple small areas of diminished and fragmented elastic tissue with Verhoeff-van Gieson stain in the superficial and mid dermis, particularly in the lower aspects of this image.
What would you like to print?