Presentation
History
A gradual loss of visual acuity initially occurs, predominantly in one eye. The hair and skin in affected areas lose their pigmentation. In one patient, ipsilateral hypoacusis was a late finding. Bilateral deafness developed in one patient. This disorder may be first evident with unilateral vitiligo on the cheek and partial loss of hearing and vision on the same side. [19]
Alopecia areata is a common disorder that has been described in association with Vogt-Koyanagi-Harada syndrome. [20] One should delineate the alopecia and poliosis linked with Vogt-Koyanagi-Harada syndrome from alopecia areata. Vogt-Koyanagi-Harada disease may be first evident as a headache. [21, 22]
Physical Examination
Alezzandrini syndrome is characterized by unilateral tapetoretinal (retinal pigmented epithelia) degeneration with the ipsilateral appearance of facial vitiligo and poliosis, as shown in the image below.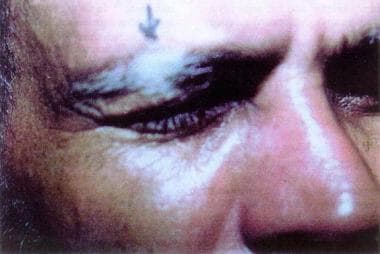 Gray forelock and vitiligo on the forehead in a patient with Alezzandrini syndrome.
Ipsilateral perceptual deafness may be an additional finding. Unilateral cutaneous and retinal disease also characterize Alezzandrini syndrome. The symptom originally described was a gradual loss of visual acuity, which predominantly affected one eye. Lorincz [23] believes that the gradual loss of visual acuity on the ipsilateral side is the criterion that should be used to diagnosis Alezzandrini syndrome.
After 3-13 years, vitiligo and poliosis develop on the head, on the side ipsilateral to the retinal lesions. Two most highly specific, at least in those with Vogt-Koyanagi-Harada disease, are exudative retinal detachment during acute disease and sunset glow fundus during the chronic phase of the disease. [24]
Congenital leukoderma suggests the need for evaluation of ocular, auditory, and/or neurologic abnormalities. [25] Poliosis may be acquired in vitiligo, Vogt-Koyanagi-Harada syndrome, Alezzandrini syndrome, and sarcoidosis. However, vitiligo patients have more lenticular and retinal changes than one should anticipate. [26]
A patient was described with a large hyperpigmented macule suggestive of an ipsilateral café-au-lait spot on the neck. [27]
What would you like to print?