Presentation
History
History findings in dermatofibrosis lenticularis (Buschke-Ollendorff syndrome) are described below. [1, 4, 5, 15, 19, 20]
The coexistence of connective-tissue nevi, such as elastomas or collagenomas, and skeletal changes, such as osteopoikilosis or melorheostosis, characterize Buschke-Ollendorff syndrome. As the clinical expression is variable, certain individuals within affected families may not exhibit the full phenotype, and skin and skeletal lesions may occur independently.
Cutaneous lesions typically appear in childhood, but they may first appear in infants or in adults.
Connective-tissue nevi are usually located on the trunk, proximal extremities, and skin folds.
The cutaneous and bone lesions are painless, nonpruritic, and enlarge with the growth of the child.
Reports in the literature have described other dermatologic conditions associated with Buschke-Ollendorff syndrome, including pyoderma gangrenosum, acne, hypertrophic scarring, and hidradenitis suppurativa. [21]
Physical Examination
Physical findings are described below. [1, 3, 4, 5, 19, 20, 22, 23, 24, 25, 26, 27, 28]
Buschke-Ollendorff syndrome is characterized by the presence of connective-tissue nevi and sclerotic bone lesions (osteopoikilosis or melorheostosis). The dermal lesions are composed of collagen, elastin fibers, and, in some instances, glycosaminoglycans. The cutaneous lesions are usually localized on the trunk, in the sacrolumbar region, or symmetrically on the extremities. Occasionally, lesions may be found on the head. They present with slightly elevated and flattened yellowish papules and nodules grouped together forming plaques several centimeters in diameter, as depicted below. The plaques are of irregular shape and sharply demarcated. They are numerous, painless, nonpruritic, and develop over several years.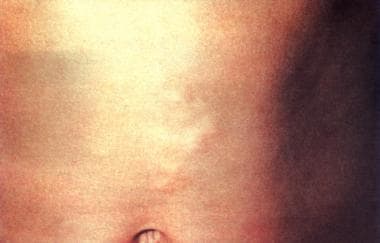 Plaque of grouped papules on the abdominal coat.
Other findings in Buschke-Ollendorff syndrome include nasolacrimal duct obstruction, amblyopia, strabismus, benign lymphoid hyperplasia, hypopigmentation, otosclerosis, and short stature. There is also some suggestion in the literature that it may be associated with cognitive or developmental delay. [16]
The bones demonstrate osteopoikilosis in the stratum spongiosum of the epiphysis and the metaphysis of the long bones, especially in the fingers, ulna, and radius. Focal bone densities are often present in the carpal bones, metacarpal bones, and phalanges. They also occur in the lumbosacral spine. Each focal area of density may measure from 1-16 mm in length. Other forms of osteosclerosis, including osteopathia striata, melorheostosis, and mixed sclerosis bone dystrophy, may be present. See the image below.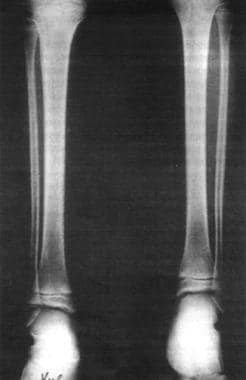 Small longitudinal lesions of increased bone density in the proximal epiphysis of the left tibial bone and in the distal epiphysis of the right tibial bone.
Congenital spinal stenosis, disk herniation, clubfoot deformity, and nerve root compression may be present.
Otosclerosis with or without hearing loss may occur. It is caused by bone resorption and redeposition, and it may be clinically asymptomatic; however, otosclerosis is a rare phenomenon in patients with Buschke-Ollendorff syndrome.
Complications
Complications can include the following [4, 8, 18] :
Bone malignancy - Osteosarcoma, chondrosarcoma, giant cell tumor

Hearing impairment

Stenosis of the aortae

Diabetes
What would you like to print?