Workup
Laboratory Studies
Patients suspected of having dermatofibrosis lenticularis (Buschke-Ollendorff syndrome) should undergo genetic testing, given the highly variable phenotypic expression. [16]
Imaging Studies
Consider the following the information below with regard to imaging studies. [1, 2, 4, 5, 27, 31]
In Buschke-Ollendorff syndrome, the radiographic appearance of osteopoikilosis is diagnostic. Bone densities are often present in the fingers, carpal and metacarpal bones, lumbosacral spine, and tibial and radial bones. They are sclerotic circular or ovoid lesions symmetrically distributed in a periarticular location, and they may be 1-16 mm in diameter. Lesions can increase or decrease in size and number or even disappear in serial radiographs. The bone densities are caused by condensations of the spongiosa.
Other sclerosing dysplasias, including osteopathia striata, melorheostosis, and focal sclerosis, can be seen. When osteopoikilosis is seen in combination with these sclerosing dysplasias, the term mixed sclerosing bone dystrophy is used.
Lesions do not have increased bone radiotracer uptake.
T1-weighted MRI reveals multiple, well-circumscribed, low-signal foci usually in a symmetric distribution. The differential diagnosis includes blastic metastases, tuberous sclerosis, and mastocytosis. However, symmetry and uniform size of the lesions would be most suggestive of osteopoikilosis.
Histologic Findings
Regarding skin lesions, histopathologic examination reveals numerous thickened collagen fibers in the dermis. Orcein stain of the reticular layer of the dermis reveals numerous elastic fibers with various diameters as depicted below. These fibers are frequently fragmented, and, in some places, they create a net of bundles. Weigert stain of the reticular dermis also reveals numerous elastic fibers with different diameters as shown below. [10] While most lesions have mixed findings, they can be categorized into four subtypes based on their composition: pure collagenoma, pure elastoma, mixed connective-tissue nevi, and cellular connective-tissue nevi. [15]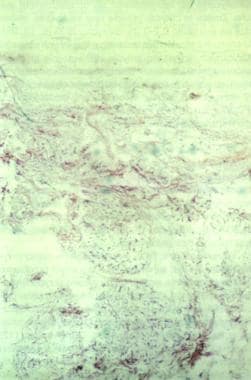 Orcein stain of elastic fibers shows the histopathologic features of the skin lesions.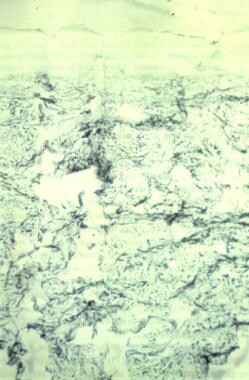 Weigert stain of the elastic fibers shows the histopathologic features of the skin lesions.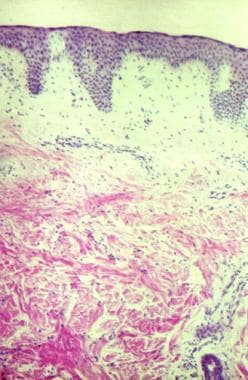 Hematoxylin and eosin stain shows the histopathologic features of the skin lesions.
What would you like to print?