Presentation
History
Physical Examination
Because of the complex anatomy of the face, atypical features are more frequently found on the glabrous skin than the typical patches of tinea corporis. Single or multiple erythematous patches without annular structure often resemble other dermatoses; delayed or missed diagnosis may result.
Lesions are almost always pruritic.
Typical signs of dermatophyte infection of the glabrous skin, similar to those of tinea corporis, may be present. These signs include annular or serpiginous erythematous scaling patches with an active border composed of papules, vesicles, and/or crusts. [23] The most common locations are the cheeks, followed by the nose, periorbital area, chin, and forehead. Some patients may have multiple lesions present in different areas of the face. See the images below.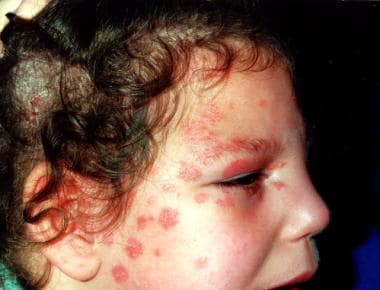 Multiple lesions on the face caused by Microsporum canis infection in a patient who also has tinea capitis.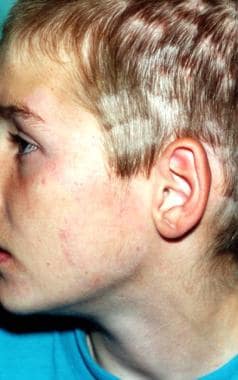 Erythematous scaling lesion on the cheek.
In as many as 70% of patients with tinea faciei, various other dermatoses are considered. Tinea faciei is the most frequently misdiagnosed entity among cutaneous fungal infections. The atypical clinical features and incognito presentations support the separation of this disease from tinea corporis. [24] Occasionally, tinea faciei may simultaneously occur with other forms of dermatophyte infections, especially tinea capitis and tinea corporis.
Tinea faciei caused by anthropophilic fungi may be less inflammatory and produce larger facial patches, whereas zoophilic ones may have more inflammatory and have smaller patches. [25]
What would you like to print?