Presentation
History
A rare pigmentary disorder, Dowling-Degos disease (reticulate pigmented anomaly) is characterized by reticulate pigmentation of the flexures, prominent comedolike lesions and pitted scars.
Some patients report pruritus in the involved regions. Most patients in the authors' experience report increased pigmentation in the neck, the axillae, or the groin, with an onset varying from childhood to adult life. It has been described in one family as occurring together with dyschromatosis universalis hereditaria. [26]
A rare association has been described between hidradenitis suppurativa and Dowling-Degos disease (reticulate pigmented anomaly), in one case together with multiple epidermal cysts. This may reflect a single underlying defect of follicular proliferation. [27]
Physical Examination
The flexural pigmentation has its onset from childhood to adult life. It may be intense, with a brownish black color and sometimes steel blue or navy overtones. It may be generalized with truncal involvement, or be less severe, with stippled shades of brown. Rarely, the macules may be hypopigmented. [28, 29]
No verrucous or velvety papillomatosis is present, as might be seen in acanthosis nigricans. If the patches are palpable, it is because of lichenification that produces a glossy and at times somewhat wrinkled appearance. The margins may show tiny pigmented comedones.
In some cases of Dowling-Degos disease (reticulate pigmented anomaly), comedolike papules may be present on the back and/or neck. Dowling-Degos disease with follicular localization has been characterized as an uncommon variant of this evolving dermatosis. [30] Some patients with Dowling-Degos disease (reticulate pigmented anomaly) have pitted perioral scars.
In addition, speckled macules involving the dorsum of the hands, the proximal nail folds, or the scrotum [31] may be seen. It may begin as numerous pigmented macules on the axillary and anogenital skin. [32] There may be diffuse penile pigmentation. [33] Fingernail dystrophy may be present. [24] The finding of speckled macules on the scrotum is isolated and limited to the scrotal and penile skin. [31] This pigmented eruption on the male external genitalia is possibly a cutaneous marker of underlying testicular carcinoma. In female patients, speckled macules may be found on the vulva. [34, 35, 36] Note the image below.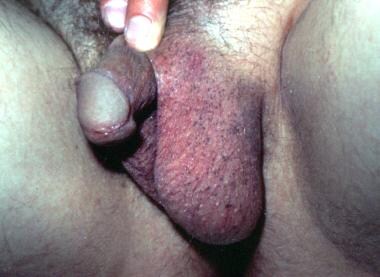 Speckled macules on the male external genitalia.
What would you like to print?