Workup
Approach Considerations
The dermoscopic findings of Dowling-Degos disease (reticulate pigmented anomaly) are not specific, but they may be useful in selected patients to rule out melanoma of the vulva. [35]
In some patients, molecular genetic analysis can facilitate making the diagnosis. [46]
Histologic Findings
Histopathologically in Dowling-Degos disease (reticulate pigmented anomaly), pigmented rete ridge elongation with thinning of the suprapapillary epithelium, dermal melanosis, and perivascular lymphohistiocytic infiltration is present. The downward elongations are composed of regular pigmented basaloid cells.
A small study showed all pigmented cells in the basal layer were recognized by anti-PEP-1, anti-PEP-2, HMB-45, and NKI/beteb antibodies. [47] Supranuclear "caps" of brown granules were observed within most basal keratinocytes in the hyperpigmentation area. The melanocytes contained regular melanosomes in all stages of maturation in their cytoplasms. Melanosomes, mainly of stages III and IV, were evident within keratinocytes, distributed either as scattered patterns or forming caps over the nucleus. Note the image below.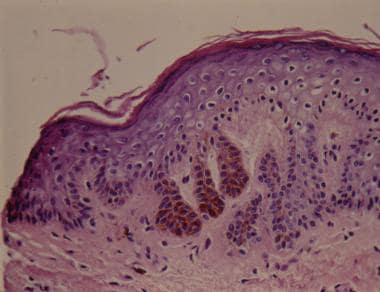 Histologic view showing elongated thin rete ridges with melanin concentrated at the tips (hematoxylin and eosin).
What would you like to print?