Workup
Procedures
Skin biopsy in colloid milium
Light microscopy is necessary. Electron microscopy may be necessary to distinguish between colloid and amyloid because these 2 entities look similar under light microscopy.
Histologic Findings
Typically, fissured eosinophilic colloid masses are seen in the dermis. [18]
In the classic adult form of colloid milium, the colloid is located in the upper and mid dermis and in defined islands, with a very superficial, subepidermal layer of the papillary dermis usually being spared (grenz zone). The colloid has a homogeneous eosinophilic appearance with some fissuring. Fibroblasts may be aligned along the edges of these fissures. Solar elastosis is marked and closely approximated to the colloid. Hair follicles and sebaceous glands are well preserved.
In the nodular form of colloid milium, the vast majority of the dermis is filled with glassy eosinophilic colloid.
In the pigmented form of colloid milium, deposits are similar to those of the classic adult form of colloid milium, except that they show a light-golden pigmentation similar to ochronosis.
In the juvenile form of colloid milium, the grenz zone is usually absent, with the islands of amorphous colloid lying close to the basal layer of the epidermis. These islands show some clefting with intervening spindle or stellate fibroblasts. Solar elastosis is absent. In the nodular form of colloid milium, the vast majority of the dermis is filled with colloid.
Because colloid cannot be distinguished from amyloid under light microscopy alone and because colloid, like amyloid, stains positively for periodic acid-Schiff stain, it can be difficult to distinguish it from amyloid. However, colloid is usually negative for the amyloid stain methyl (crystal) violet. Colloid may also sometimes yield weakly positive results and may show green birefringence with Congo red stain. Amyloid in the skin frequently immunostains positively for cytokeratin or immunoglobulin light chain, which colloid should not. However, if these special stains and immunostains prove inconclusive, electron microscopy may be necessary. [6, 19]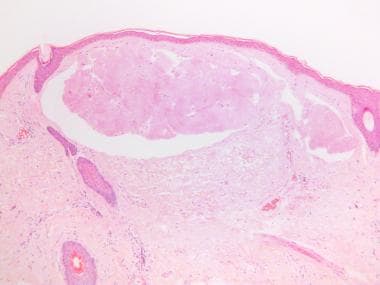 Hematoxylin and eosin–stained section of skin (X40) showing a central focus of amorphous, eosinophilic, homogenous colloid with surrounding fissuring.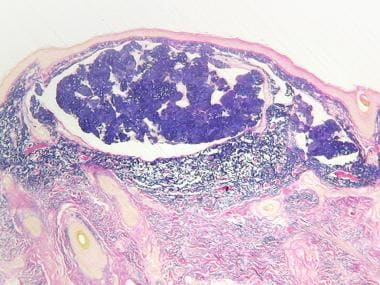 Elastic van Gieson stain of the same area showing strong (black) staining of the colloid for elastin.
What would you like to print?