Presentation
History
A history of severe persistent sunburn can be found in many patients. The history should focus on the relationship of the eruption to sun exposure, with a careful determination of its time course and morphology. [17]
As with most autosomal recessive disorders, usually no family history is present; the parents, being heterozygotes, are healthy. Additionally, a history of consanguinity may be elicited.
Physical Examination
The disease typically passes through 3 stages. [18] The skin is healthy at birth. Typically, the first stage appears after age 6 months. This stage is characterized by diffuse erythema, scaling, and frecklelike areas of increased pigmentation (see following image). These findings, as would be expected from the pathophysiologic basis for the disease, are seen over light-exposed areas, appearing initially on the face. With progression of the disease, the skin changes appear on the lower legs, the neck, and even the trunk in extreme cases. While these features tend to diminish during the winter months with decreased sun exposure, as time passes, these findings become permanent.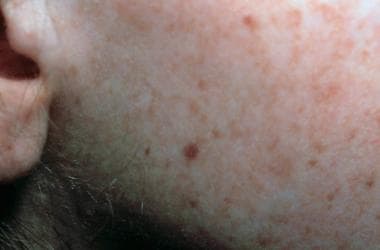 Face of a toddler with xeroderma pigmentosum, representative of an early stage of the disease. Note the freckling and the scaling. Courtesy of Neil S. Prose, MD, Duke University Medical Center, Durham, North Carolina.
The second stage is characterized by poikiloderma. Poikiloderma consists of skin atrophy, telangiectasias, and mottled hyperpigmentation and hypopigmentation, giving rise to an appearance similar to that of chronic radiodermatitis (see following image). Although telangiectasias also occur in the sun-exposed areas, they have been reported to arise in unexposed skin and even buccal mucosa.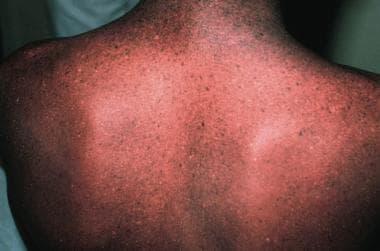 Back of an adolescent with xeroderma pigmentosum, representing a later stage of the disease. Note the mottled hyperpigmentation and atrophy. Courtesy of Neil S. Prose, MD, Duke University Medical Center, Durham, North Carolina.
The third stage is heralded by the appearance of numerous malignancies, including squamous cell carcinomas, malignant melanoma, basal cell carcinoma, [19] and fibrosarcoma. These malignancies may occur as early as age 4-5 years and are more prevalent in sun-exposed areas.
Photosensitivity should be suspected and evaluated in any patient with intermittent or persistent abnormalities on light-exposed areas. Photosensitivity in xeroderma pigmentosum is variable, but it generally occurs in the range of 290-320 nm. The minimal erythema dose is lower than normal at most wavelengths. In xeroderma pigmentosum, the photosensitivity is acute in nature. The action spectrum for elicitation of the photosensitivity may be suggested by the seasonal or diurnal variability of the eruption and by any protective effect of window glass or sunscreens.
Ocular problems [20] occur in nearly 80% of individuals with xeroderma pigmentosum. The initial problems include photophobia and conjunctivitis. Eyelid solar lentigines occur during the first decade of life, and they might transform into malignant melanoma. Ectropion, symblepharon with ulceration, repeated conjunctival inflammation, infections, and scarring might develop in these patients. In addition, vascular pterygia; fibrovascular pannus of the cornea; and epitheliomas of the lids, the conjunctivae, and the cornea can occur. Finally, the propensity for malignancies, such as squamous cell carcinoma, basal cell carcinoma, sebaceous cell carcinoma, and fibrosarcoma, can also involve the eyes of patients with xeroderma pigmentosum.
Neurologic problems [20] are seen in nearly 20% of patients with xeroderma pigmentosum, more commonly in groups XPA and XPD. The severity of these problems is proportional to the sensitivity of xeroderma pigmentosum fibroblasts to UV radiation. The problems include microcephaly, spasticity, hyporeflexia or areflexia, ataxia, chorea, motor neuron signs or segmental demyelination, sensorineural deafness, supranuclear ophthalmoplegia, and mental retardation. The neurologic problems might overshadow the cutaneous manifestations in some patients with xeroderma pigmentosum. De Sanctis-Cacchione syndrome refers to the combination of xeroderma pigmentosum and neurologic abnormalities (including mental retardation and cerebellar ataxia), hypogonadism, and dwarfism.
The Medscape Reference article Neurologic Manifestations of Xeroderma Pigmentosum may be of interest.
Complications
Multiple cutaneous neoplasms develop at a young age in persons with xeroderma pigmentosum. Death is usually caused by metastatic malignant melanoma or squamous cell carcinoma.
Patients with xeroderma pigmentosum are also susceptible to infection and, in some subtypes, neurologic complications.
What would you like to print?