Workup
Laboratory Studies
Actinic prurigo is not a systemic disease, and no anomalous results occur in routine laboratory workup. Laboratory tests are performed to rule out systemic diseases with photosensitivity, such as lupus erythematosus.
Antinuclear antibody levels, anti-Ro and anti-La titers, and porphyrin levels are in the reference range.
Direct immunofluorescence study results are negative. These findings should support the diagnosis on the basis of the clinical picture.
Other Tests
In a similar way to what occurs in polymorphous light eruption (PLE), the minimal erythema dose (MED) is decreased in patients with actinic prurigo.
Great variation exists in the literature concerning protocols and results of phototesting for photodermatoses, such as PLE and actinic prurigo. Lesions can be reproduced on healthy skin when it is irradiated with 10-20 times the MED with solar simulated light in 75% of cases. A delayed reading at 4-7 days confirms the presence of induced lesions. Patients in all the series reported from the authors' institution are based on these criteria. [7, 8] This phototest protocol may be avoided for routine treatment of patients with actinic prurigo; however, this protocol may be useful for clinical research studies. See the image below.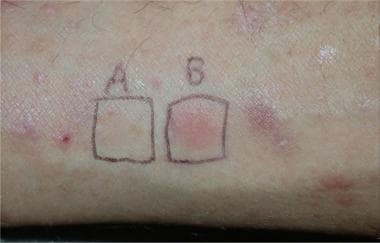 A phototest with UV-B light shows reproduction of lesions on the inner aspect of the arm. The result from the phototest with UV-A light was negative.
Another common phototesting protocol consists of irradiating the volar aspect of the forearm with 0.75 MED for 3-5 consecutive days; the lesions show similar reproduction rates.
Photopatch testing is negative.
A negative phototesting result does not exclude the diagnosis.
Histologic Findings
Histologic examination shows acanthosis, mild spongiosis, edema of the lamina propria, a moderate-to-dense in a bandlike lymphocytic inflammatory infiltrate, and, occasionally, lymphoid follicles. This latter finding is somewhat more common in the mucosa, the conjunctivae, and the lips (15-20%). [3] Abundant eosinophils are usually present. Notably, Cedeno-Suarez et al found the toluidine blue test useful in locating lymphoid follicles in actinic prurigo biopsies. [37] The affected conjunctivae show epithelial hyperplasia alternating with atrophy. Vacuolization of the basal cell layer and dilated capillaries in the dermis are also noted. [23] When lesions are experimentally reproduced, histopathologic findings are similar to those mentioned. See the images below.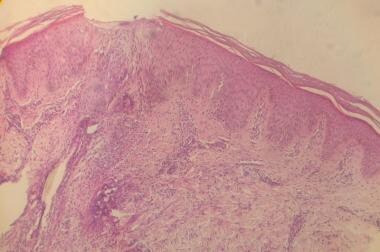 Histologic examination shows acanthosis, mild spongiosis, edema of the lamina propria, and a moderate-to-dense perivascular lymphocytic inflammatory infiltrate.
A close-up view shows edema of the lamina propria as well as a lymphocytic inflammatory infiltrate in the dermis.
What would you like to print?