Workup
Approach Considerations
Clinical criteria for diagnosing balanitis circumscripta plasmacellularis (plasma cell balanitis) exist and include the clinical presentation, absence/ruling-out of other diagnoses, and poor response to treatment based on the following [16] :
Clinical presentation: Shiny, erythematous patch or plaque on the glans, prepuce, or both for greater than 3 months duration

Absence of other diagnoses: Lesions suggestive of lichen planus or psoriasis elsewhere on the body, concurrent infections (herpes simplex virus, Candida, syphilis, bacteria)

Poor response to at least a 4-week trial of topical treatments
Laboratory Studies
The diagnosis of balanitis circumscripta plasmacellularis (plasma cell balanitis) is confirmed by distinctive histologic findings after skin biopsy.
Imaging Studies
Reflectance confocal microscopy
A 2013 study assessed the possibility of using reflectance confocal microscopy (RCM), a tool used to perform in vivo imaging, to help differentiate balanitis and carcinoma in situ (CIS) instead of using the standard of care, which is biopsy. [22] Findings used in the assessment were histologic, clinical, and RCM data. Outcome measures were overall death, disease-specific death, nodal metastasis, and local recurrence. Results indicated that RCM findings were effective in differentiating balanitis and CIS, suggesting a possible role for avoiding biopsy in the delicate area. [22] Features suggestive of a benign, inflammatory conditions like balanitis are a nucleated honeycomb pattern and vermicular vessels. CIS on RCM shows an atypical honeycomb pattern, disarranged epidermal pattern, and round, nucleated cells. [22]
Dermoscopy
Dermoscopic features can provide helpful clues in determining the diagnosis of plasma cell balanitis. Two major features exist: (1) focal or diffuse, orange-yellow structureless regions and (2) focused curved vessels. The prior represents hemosiderin deposition and the latter represents vascular dilatation or proliferation. [23] The vessels are the paramount feature to differentiate plasma cell balanitis from other differential diagnoses. Erythroplasia of Queyrat may have scattered, glomerular vessels. Psoriasis has regular dotted vessels. Nonspecific balanitis often has linear, irregular, unfocused vessels. [23]
Procedures
Skin biopsy may be necessary for histologic studies.
Histologic Findings
Skin biopsy of the balanitis circumscripta plasmacellularis (plasma cell balanitis) lesion reveals very distinct changes in the epidermis and dermis.
Epidermal findings include early and late changes. Initially, there is epidermal thickening, acanthosis, and parakeratosis at the earliest stages. At the later stages of the lesion, when this entity most often undergoes biopsy, there is epidermal thinning with effacement of the rete ridges. This atrophy may be significant enough to reveal erosions or ulceration of the epidermis, often with scattered neutrophils. Diamond-shaped or lozenge keratinocytes are common, identified as elongated keratinocytes in the lower half of the stratum spinosum, parallel to the skin surface. There is also uniform spongiosis, known as "watery spongiosis." Dyskeratotic keratinocytes are not uncommon.
Dermal findings include a dense, bandlike subepidermal or lichenoid infiltrate with a predominance of plasma cells in the papillary dermis. Vascular dilatation and proliferation with erythrocyte extravasation and hemosiderin deposits with siderophages are noted frequently.
Alessi et al analyzed this condition and found that a small group of previously unclassified cases showed common clinical and histopathological features. [24] All of the patients were uncircumcised, and all had long-standing asymptomatic erythematous plaques on the balanopreputial sac. No correlation with sexual intercourse was reported. Histologically, all the specimens showed a thinned and spongiotic epithelium, a bandlike infiltrate of lymphocytes, and histiocytes. A variable number of plasma cells were present in the upper part of the submucosa. The authors concluded that these cases fell within a spectrum of inflammatory noncicatricial disorders, ranging from almost pure lymphohistiocytic forms to forms that fulfill all criteria for balanitis circumscripta plasmacellularis. They proposed the term idiopathic inflammatory noncicatricial balanoposthitis.
Weyers et al studied 45 cases of plasma cell balanitis clinically and histopathologically. [25] They noted that slight epidermal acanthosis and parakeratosis and a patchy lichenoid infiltrate of lymphocytes and some plasma cells were present in early lesions. They reported epidermal atrophy and erosions, a scattering of neutrophils in the upper epidermis, scant spongiosis, red blood cell extravasation, and a denser infiltrate with many plasma cells as late findings. Additional late changes included subepidermal clefts, ulceration, superficial dermal marked fibrosis, and a marked increase of siderophages. These findings suggest that plasma cell balanitis results from irritation or mild trauma involving scantly keratinized skin in a moist environment. Plasma cell balanitis may be found superimposed on other types of cutaneous pathology, and that can alter such histopathology. [25]
Kumar et al described four major histological features, which included (1) epidermal edema; (2) a dense upper dermal band of chronic inflammatory cells, including many plasma cells; (3) dilated capillaries and extravasated red blood cells; and (4) hemosiderin deposition. [16]
In 2010, at the University of Virginia, [26] 28 cases of Zoon-like lesions, 22 cases of lichen planus, 8 cases of plasmacytoma, and 2 cases of syphilis were reviewed. The authors tabulated 24 histologic data points including 12 epidermal and 12 dermal criteria. In Zoon-like lesions, histopathologic findings, regardless of location, included superficial cutaneous erosions and basal vacuolar alteration. Epidermal lozenge-shaped keratinocytes with dense dermal inflammatory infiltrate composed predominantly of dermal plasma cells, with scattered neutrophils and lymphocytes and upper dermal fibrosis, were often seen as well. The authors suggested the generic term idiopathic lymphoplasmacellular mucositis-dermatitis be considered to cover the lymphoplasmacellular infiltrates in the skin and mucosal surfaces.
See the image below.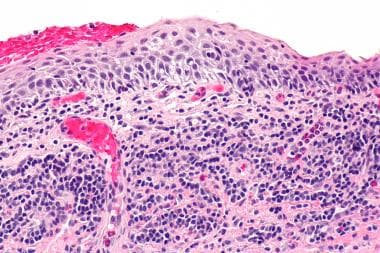 Plasmacytosis mucosae of balanitis circumscripta plasmacellularis (plasma cell balanitis or Zoon balanitis. Hematoxylin and eosin stain. Courtesy of Nephron, via Wikimedia Commons.
What would you like to print?