Presentation
History
Lichen nitidus is usually an asymptomatic eruption; however, patients occasionally complain of pruritus. Familial cases have been described. [6]
Physical Examination
The primary lesions consist of multiple 1- to 3-mm, sharply demarcated, round or polygonal, flat-topped, skin-colored shiny papules that often appear in groups (see image below).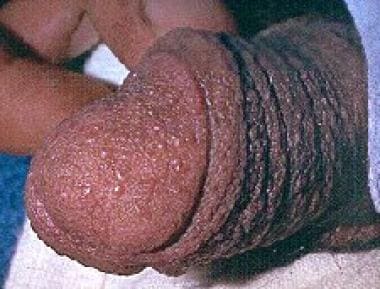 Multiple shiny lichens over the penis.
The Köbner phenomenon (or an isomorphic response) may be observed, as shown below. This phenomenon causes the occasional linear pattern of the lesions associated with lichen nitidus.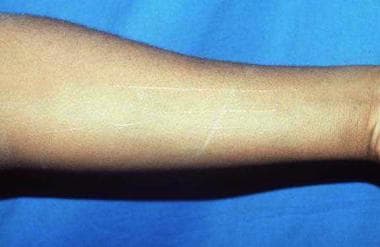 Köbner phenomenon in lichen nitidus.
The most common sites of involvement are the trunk, flexor aspects of upper extremities, dorsal aspects of hands (see image below), and genitalia. Infrequently, the lower extremities, palms, soles, face, nails, and mucous membranes may be affected. Nail changes include pitting, ridging, splitting, and linear striations.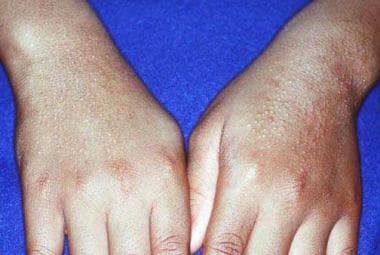 Lichen nitidus.
Clinical variants of lichen nitidus include generalized, [7] linear, actinic, [8] perforating, [9, 10] keratodermic, [11, 12] vesicular, [13] and purpuric [10] /hemorrhagic [13] forms.
Reported associated diseases include atopic dermatitis, [14] lichen planus, [15] condyloma, [16] amenorrhea, [17] Crohn disease, [18, 19] , juvenile chronic arthritis, [20] and Down syndrome. [21, 22]
What would you like to print?