Presentation
History
Most cases of lichen planus (LP) are insidious. Lesions usually develop on flexural surfaces of the limbs, such as the wrists (see the image below). After a week or more, a generalized eruption develops with maximal spreading within 2-16 weeks.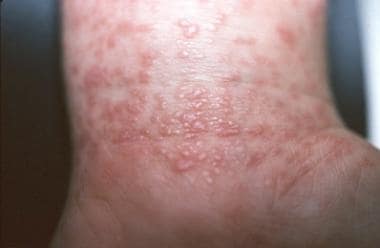 Lichen planus on the flexor part of the wrist.
Pruritus is common in lichen planus but varies in severity depending on the type of lesion and the extent of involvement. Hypertrophic lesions are extremely pruritic.
Oral lesions may be asymptomatic or have a burning sensation, or they may even be painful if erosions are present.
In more than 50% of patients with cutaneous disease, the lesions resolve within 6 months, and 85% of cases subside within 18 months. On the other hand, oral lichen planus had been reported to have a mean duration of 5 years. Large, annular, hypertrophic lesions and mucous membrane involvement are more likely to become chronic.
Physical Examination
In addition to the cutaneous eruption, lichen planus (LP) can involve the mucous membranes, the genitalia, the nails, and the scalp. The clinical presentation of lichen planus has several forms: actinic (in sun-exposed areas), annular, atrophic, erosive, follicular, hypertrophic, linear, pigmented, and vesicular/bullous. The papules are violaceous, shiny, and polygonal; varying in size from 1 mm to greater than 1 cm in diameter (see the image below). They can be discrete or arranged in groups of lines or circles. Characteristic fine, white lines, called Wickham stria, are often found on the papules (see the image below).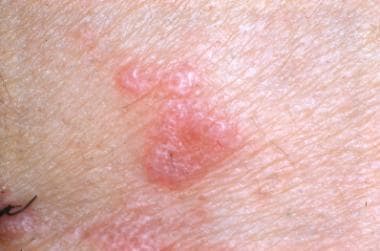 Close-up view of lichen planus.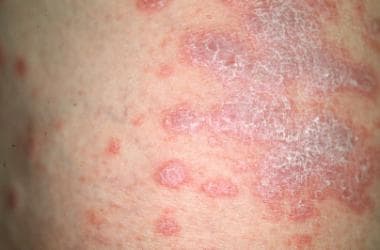 Lichen planus shows Wickham striae (white, fine, reticular scales).
Mucous membrane involvement is common and may be found in patients who do not have skin involvement. Lesions are most commonly found on the tongue and the buccal mucosa; they are characterized by white or gray streaks forming a linear or reticular pattern on a violaceous background (see the image below). Oral lesions are classified as reticular, plaquelike, atrophic, papular, erosive, and bullous. Ulcerated oral lesions may have a higher incidence of malignant transformation in men, but this observation may be confounded by other factors, such as smoking and chewing tobacco. Lesions may also be found on the conjunctivae, the larynx, the esophagus, the tonsils, the tympanic membrane, the bladder, the vulva, and the vaginal vault; throughout the gastrointestinal tract; and around the anus.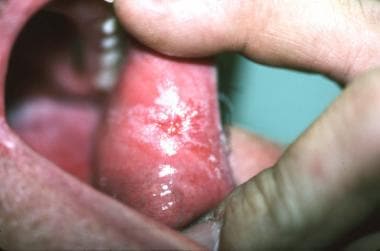 Lichen planus on the oral mucosa with ulceration in the center of the lesion appears with whitish papules and plaques in the periphery.
Genital involvement is common in lichen planus. Typically, men develop annular lesions on the glans. Wickham striae may also be observed on these lesions. Vulvar involvement can range from reticulate papules to severe erosions. Dyspareunia, a burning sensation, and pruritus are common in women. Vulvar and urethral stenosis may be a complication. It is estimated that more than 50% of women with oral lichen planus also had undiagnosed vulvar lichen planus. [18, 19]
Nail findings are found in roughly 10% of patients with lichen planus. Thes findings are most commonly longitudinal grooving and ridging. Hyperpigmentation, subungual hyperkeratosis, onycholysis, and longitudinal melanonychia can result from lichen planus. Rarely, inflammation may result in permanent destruction of the nail matrix with subsequent pterygium formation. Lichen planus has been linked to childhood idiopathic nail atrophy and may overlap with twenty-nail dystrophy of childhood.
Cutaneous lesions may be accompanied by follicular and perifollicular lesions on the scalp, which may be violaceous, scaly, and pruritic papules. These lesions can progress to atrophic cicatricial alopecia, known as lichen planopilaris. This can appear even many weeks after the skin lesions have disappeared. Pseudopelade can be a final endpoint.
Variations in lichen planus include the following:
Hypertrophic lichen planus: These extremely pruritic lesions are most often found on the extensor surfaces of the lower extremities, especially around the ankles. Hypertrophic lesions are often chronic; residual pigmentation and scarring can occur when the lesions eventually clear.

Atrophic lichen planus: Atrophic lichen planus is characterized by a few lesions, which are often the resolution of annular or hypertrophic lesions.

Erosive/ulcerative lichen planus: These lesions are found on the mucosal surfaces and evolve from sites of previous lichen planus involvement. A rare variant of lichen planus is vulvovaginal-gingival syndrome. [20] It is characterized by erosions and desquamation of the mucosa in the vulval, vaginal, and gingival regions. It can be associated with mucocutaneous scarring and vaginal stricture formation.

Follicular lichen planus (also known as lichen planopilaris): This is characterized by keratotic papules that may coalesce into plaques. This condition is more common in women than in men, and ungual and erosive mucosal involvement is more likely to be present. A scarring alopecia may result. A variant of lichen planopilaris is frontal fibrosing alopecia. It is characterized by marginal progressive hair loss on the scalp, eyebrows, and axillae. [21] Another variant of follicular lichen planus is Graham-Little-Piccardi-Lasseur syndrome. [22] Features of this syndrome include progressive scalp cicatricial alopecia, noncicatricial alopecia of the axillae and pubic areas, and keratosis pilaris–like follicular papules over the trunk and extremities.

Annular lichen planus: Lichen planus papules that are purely annular are rare. Annular lesions with an atrophic center can be found on the buccal mucosa and the male genitalia.

Linear lichen planus: Isolated linear lesions may form a zosteriform lesion, or they may develop as a Köebner effect.

Vesicular and bullous lichen planus: Most commonly, these lesions develop on the lower limbs or in the mouth from preexisting lichen planus lesions. A rare condition, lichen planus pemphigoides, is a combination of both lichen planus and bullous pemphigoid.

Actinic lichen planus: Subtropic or actinic lichen planus occurs in regions, such as Africa, the Middle East, and India. This mildly pruritic eruption usually spares the nails, the scalp, the mucous membranes, and covered areas. Lesions are characterized by nummular patches with a hypopigmented zone surrounding a hyperpigmented center.

Lichen planus pigmentosus: This is a rare variant of lichen planus but can be more common in persons with darker-pigmented skin, such as Latinos or Asians. It usually appears on face and neck. Some believe it is similar to or the same as erythema dyschromicum perstans (ie, ashy dermatosis).

Lichen planus pemphigoides: This is a rare form of lichen planus. Blisters subsequently develop on lichen planus lesions. Clinically, histopathologically and immunopathologically, it has features of lichen planus and bullous pemphigoid, it but carries a better prognosis than pemphigoid.
Complications
Malignant transformation has been reported in ulcerative oral lichen planus (OLP). [23] Cutaneous hypertrophic lichen planus resulting in squamous cell carcinoma (SCC) was reported in a series of 38 patients. [24] Pruritic and painful vulvar lichen planus has been a precursor to SCC in a small number of cases.
Infection, osteoporosis, adrenal insufficiency, bone marrow suppression, renal damage, hyperlipidemia, and growth restriction in children may occur due to medication adverse effects. Postinflammatory/residual hyperpigmentation may be a common marker after lichen planus has subsided. Alopecia associated with lichen planus is often permanent.
Hepatitis C virus infection may be present in 16% of lichen planus patients. Additionally, a meta-analysis reported that hepatitis C virus seropositivity could be 6 times higher in oral lichen planus patients than controls. [1]
What would you like to print?