Workup
Approach Considerations
Diagnosis of lichen sclerosus (LS) may often be made on clinical appearance, and ancillary examinations such as dermoscopy may help confirm the diagnosis. [22] Biopsy should be performed in questionable cases, and, in follow up, biopsy samples from nonhealing ulcerations or masses should be examined to exclude malignant transformation.
Laboratory Studies
Skin biopsy (punch preferred) is the primary study to perform for the diagnosis of lichen sclerosus (LS). Despite the presence of autoantibodies described in several studies, an autoimmune workup (eg, antinuclear antibody, vitamin B-12 levels, thyroid function tests) is still not generally recommended because the frequency of multiple autoimmune diseases associated with lichen sclerosus is not high enough to justify the expense of screening all patients. For the same reason, Borrelia antibody titers are not recommended, as they would not clearly influence therapy and, in most studies, are not strongly associated with lichen sclerosus, especially in the United States.
Imaging Studies
Imaging studies are not needed unless urinary obstruction secondary to severe, stenosing genital lichen sclerosus (LS) is present. Intravenous pyelogram might be appropriate in this situation.
Procedures
Punch biopsy in the most mature area of the lesion usually is diagnostic. In genital biopsies, snip excisions may suffice. Suturing the wound, especially when using braided suture, which is less likely to poke sensitive skin, leads to more rapid healing than allowing self-granulation.
Ulcerative or vegetative genital lesions may need to undergo biopsy more than once to screen for squamous cell carcinoma. Epidermal hyperplasia and/or dysplasia associated with lichen sclerosus (LS) on vulvar biopsy specimens is associated with an increased risk of malignant transformation. Overexpression of wild-type p53 is also associated with increased cancer risk, as is a human papillomavirus–associated increase in p16INK4A. [23] Contrary to this study, Paolino, et al (2013) suggest that human papillomavirus is not identified in most cases of lichen sclerosus–associated malignancy and, when it is, may be a nononcogenic type. [24]
Histologic Findings
Classic lichen sclerosus (LS) demonstrates a lichenoid infiltrate in the dermoepidermal junction, compact hyperkeratosis with stratum corneum, which often is thicker than the greatly effaced epidermis. Remarkable edema in the papillary (upper) dermis is replaced by a dense, homogenous fibrosis as the lesion matures. Extensive and deeper biopsies may show areas more consistent with scleroderma than classic lichen sclerosus. Note the images below.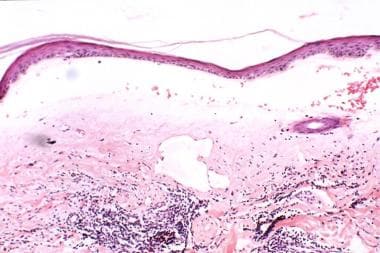 Typical lichen sclerosus histology demonstrating homogenized edematous papillary (upper) dermis and effaced epidermis.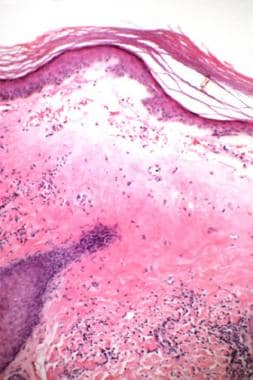 Late lichen sclerosus may show less edema in the upper dermis and more sclerosis throughout the dermis. Involvement of the lower dermis or fat may occur in lichen sclerosus/scleroderma overlap presentations.
Both dermoscopy and confocal microscopy are in vivo methods of recognizing typical histologic findings for different skin conditions. Lacarruba et al (2015) discuss typical findings in lichen sclerosus, including the appearance of epidermal atrophy and follicular plugging. [25]
What would you like to print?