Presentation
History
One of the hallmarks of transient acantholytic dermatosis (Grover disease) is pruritus, and all individuals who are affected experience variable degrees of itching, sometimes severe in nature.
The clinical appearance does not always correlate to the degree of pruritus; for example, some patients with limited cutaneous disease complain of severe itching, whereas others with many lesions have few or no symptoms.
While lesions may resolve over weeks to months, they commonly recur. It is also possible for lesions to bleed.
No systemic symptoms are associated with transient acantholytic dermatosis (Grover disease), but oral lesions can develop that resemble aphthae and may be slightly painful. [10]
Physical Examination
The transient acantholytic dermatosis (Grover disease) process usually begins as an eruption of the skin on the anterior part of the chest, the upper part of the back, and the lower part of the rib cage (see the images below). [11]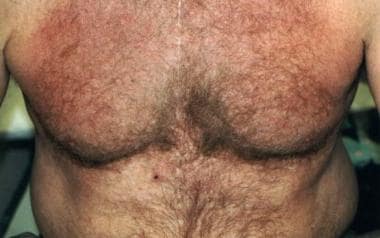 A 54-year-old man with a pruritic eruption on the trunk. Notice the slight lichenification and significant erythema from rubbing that is localized to the central part of the torso. Also note the red-brown papules in the abdominal region.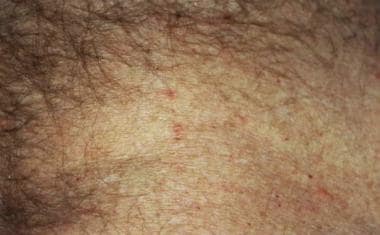 Close-up view of the abdominal area of a patient with a pruritic eruption on the trunk. Multiple, small, discrete, red-brown papules characteristic of Grover disease are present.
Patients who are severely affected may have disseminated disease affecting the neck, the shoulders, the arms, and the legs. The scalp is usually not affected, and the palms and the soles are almost always spared.
Individual lesions are erythematous to red brown keratotic papules that remain discrete and do not usually tend to coalesce. Occasionally, lesions may be acneiform, vesicular, pustular, and rarely even bullous. Although the most common presentation is that of widespread scattered papules, unusual distributions, including zosteriform or unilateral, may occur. [12]
The utility of dermoscopy is limited, as no features specific for transient acantholytic dermatosis have been reported.
Complications
Lesions may resolve with postinflammatory pigmentary alteration or with no residual change. Diagnosis can be complicated by dermatitis, because it produces scattered, rounded crusted plaques that resemble those in transient acantholytic dermatosis. Scarring is usually minimal unless induced by excoriation.
What would you like to print?