Workup
Laboratory Studies
Similar symptoms (pruritic papular eruptions on the chest), immunohistochemical findings, and histology are present in herpes virus infection. Therefore, herpes simplex virus (HSV) infection must be ruled out by ensuring HSV-1 and HSV-2 stains come back negative. A skin scraping with oil preparation to search for mites, ova, and scybala of scabies is commonly warranted in any patient with pruritus and a rash. However, the clinical features of transient acantholytic dermatosis (Grover disease) are substantially different from scabies. More uncommon parasite infections, such as bird mite or cat mite, could mimic transient acantholytic dermatosis clinically. [14] In most cases of transient acantholytic dermatosis, immunofluorescence has been consistently negative; however, some studies have shown positive immunofluorescence. [15, 16] While this may provide an area for research in the etiology of transient acantholytic dermatosis, the results have proven inconsistent and have not yet been correlated directly to the histology.
Histologic Findings
The histology of transient acantholytic dermatosis (Grover disease) contains certain characteristic features, but for a precise diagnosis to be rendered, clinicopathologic correlation is needed (see the images below). Typically, focal acantholysis and dyskeratosis are seen. Spongiosis is also commonly observed, and the presence of spongiosis, acantholysis, and vesicle formation in the same specimen should raise the possibility of transient acantholytic dermatosis. [17, 18] Acrosyringeal acantholysis may be present, [19] and multinucleated cells may suggest herpetic infection. [20]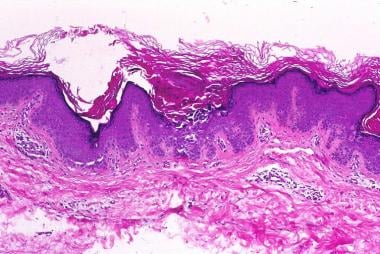 Histopathology of Darier-type Grover disease. A focus of acantholytic dyskeratosis is present in the epidermis with slight epithelial hyperplasia and hyperkeratosis, a sign of rubbing as a consequence of the pruritic nature of the disease (hematoxylin and eosin, original magnification X40).
Higher magnification reveals the acantholytic dyskeratosis to better advantage. Note the corps ronds and grains (hematoxylin and eosin, original magnification X400).
Several distinct histologic patterns of transient acantholytic dermatosis (Grover disease) have been described: (1) a pattern that simulates Hailey-Hailey disease; (2) a pattern that simulates Darier disease; (3) a pattern characterized mainly by spongiotic dermatitis; (4) a pattern that simulates pemphigus vulgaris; and (5) a pattern that simulates pemphigus foliaceus. Although one pattern may predominate, each pattern may be seen in different lesions from the same patient or, in some cases, within a single specimen. Other newly described patterns include (6) a pattern characterized by parakeratosis; (7) a pattern resembling a solar lentigo/Dowling-Degos disease, characterized by intraepidermal vesicles; (8) a pattern with lymphocytic infiltrate; and (9) a pattern characterized by disordered keratinocyte maturation. [21] The key discriminating features are described below:
Darier disease - Virtually identical; greater tendency to involve follicles; clinical correlation essential

Pemphigus vulgaris - Broad zones of suprabasilar acantholysis; mucosal involvement; involvement of adnexal structures; often abundant eosinophils

Acantholytic solar keratosis - Atypical keratinocytic proliferation in lower portion of epidermis with cytologic atypia and mitoses; alternating orthokeratosis and parakeratosis; solar elastosis

Solitary acantholytic keratosis - Epidermal hyperplasia; slight papillomatosis or digitation of epidermis; clinical correlation required

Pemphigus foliaceus/erythematosus - Broad zone of subcorneal and subgranular acantholysis; involvement of adnexal structures; often eosinophils

Warty dyskeratoma - Cup-shaped exoendophytic cystlike lesion; acantholytic and dyskeratotic cells lining cyst wall; pseudopapillae with acantholytic dyskeratosis lined by a single layer of basal cells

Familial dyskeratotic comedones - Small cylindrical invagination with epithelial lining demonstrating acantholytic dyskeratosis

Porokeratotic - Parakeratosis over parts of epidermis lacking a granular layer; upper epidermal layers have occasional dyskeratosis

Lentiginous - Rete ridge elongation; basal hyperpigmentation

Vesicular - Intraepidermal vesicles with little acantholysis and spongiosis surrounding it

Lichenoid - Occasional dyskeratosis; damage of the vacuoles; dermoepidermal junction has lymphocytic infiltrate

Dysmaturation - Little hyperchromasia; nuclear pleomorphism; disordered maturation of keratinocytes
Other Tests
Negative immunofluorescence; negative stains for VZV, HSV1, and HSV2
What would you like to print?