Workup
Laboratory Studies
Potassium hydroxide (KOH) slide preparation allows for the rapid visualization of the candidal hyphae and culture for Candida species often isolates candidal species and helps to direct proper treatment.
Imaging Studies
No imaging studies are indicated.
Other Tests
Rarely, serologic tests for candidal species may be indicated, particularly in unclear cases and for academic interest.
Procedures
Biopsy is performed in doubtful cases and if antifungal treatment fails to produce a favorable response. Biopsy is especially warranted if premalignant or malignant lesions, such as erythroplasia of Queyrat or Bowen disease, are suspected and need to be excluded.
Histologic Findings
The histologic findings are nonspecific and eczematous in nature. Dermis contains lymphoplasmacytic infiltrates. Special stains for fungi, such as the periodic acid-Schiff (PAS) stain, may exhibit fungal elements characteristic of candidal organisms.
See the image below.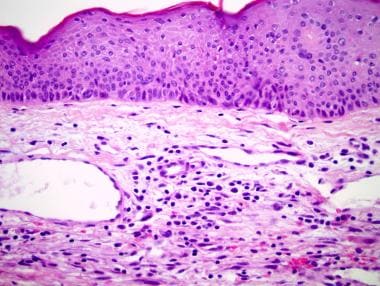 Dermis with lymphoplasmacytic infiltrates and dilated blood vessels.
What would you like to print?