Workup
Laboratory Studies
No laboratory abnormalities specific to cutaneous Kikuchi disease (KD) have been reported, but there are frequent reports of nonspecific lab abnormalities, including elevated erythrocyte sedimentation rates and C-reactive protein, leukopenia (especially granulocytopenia, which can occur in 20-58% of cases), thrombocytopenia, and atypical lymphocytosis reported in the peripheral blood. [3, 9, 31] Leukocytosis has been reported in 2-5% of cases. Elevated liver enzymes and lactate dehydrogenase may also occur. [3] In other cases, no laboratory abnormalities are identified. [9]
Interestingly, up to 45% of patients may have an elevated antinuclear antibody (>1/320). These patients appear to be at increased risk for developing lupus erythematosus or may have previously had a lupus erythematosus diagnosis. [3]
Imaging Studies
Cutaneous Kikuchi disease (KD) does not require any imaging studies. However, imaging studies, including computed tomography scans, may be performed to help diagnose the primary lymph node involvement of KD. Many different patterns of computed tomographic findings in KD have been reported. They include enlarged lymph nodes with a hypodense center and peripheral ring enhancement. Many small, clustered lymph nodes also may be a characteristic imaging feature of KD. [32]
Other Tests
Although not commonly done, flow cytometric studies performed on the affected lymph node, bone marrow aspirate, or peripheral blood reveal a relative expansion of mature activated T lymphocytes, predominantly expressing a CD8-positive phenotype. [33]
Procedures
Skin biopsy is required for definitive diagnosis of cutaneous Kikuchi disease (KD), and lymph node biopsy is often performed to diagnose KD in general.
Histologic Findings
Skin biopsy specimens show a superficial and/or deep lymphohistiocytic infiltration with vacuolar interface dermatitis, necrotic keratinocytes, and prominent karyorrhexis in the absence of neutrophils. Mucin deposition has also been reported. These findings parallel the nodal histology of Kikuchi disease (KD), which typically shows patchy, well-circumscribed areas of necrosis with abundant karyorrhectic debris and large accumulations of histiocytes as well as lymphocytes. Neutrophils are absent. Importantly, lupus lymphadenitis is very difficult to distinguish from nodal KD, and in some cases it may be histologically and immunohistochemically indistinguishable. [9, 13, 34]
In 2010, Kim et al reported that in16 patients with cutaneous KD, 100% of skin biopsy specimens showed superficial lymphohistiocytic infiltration and karyorrhexis, 75% showed vacuolar interface dermatitis, and 68.8% showed necrotic keratinocytes. [34] Deposition of mucin was noted in 31.3%, and panniculitis was seen in 60%. One study by Pradela et al noted that the presence of interface dermatitis on skin biopsy of cutaneous KD was associated with an increased risk of progression to systemic lupus erythematosus. [13]
Of note, cutaneous KD shares many histologic features with cutaneous lupus erythematosus, such as interface dermatitis and dermal mucin deposition. However, a patchy, perivascular infiltrate with necrosis and karyorrhectic debris, as well as a lack of plasma cells, are features that support a diagnosis of KD over lupus erythematosus. [13, 34]
Immunohistochemistry findings demonstrate that the predominant infiltrating cells are CD3-positive T lymphocytes and CD68- and CD163-positive histiocytes. A slight predominance of CD8-positive lymphocytes was reported in approximately 81% of the patients in one study. CD20-positive B cells are rare. [9, 34]
See the image below.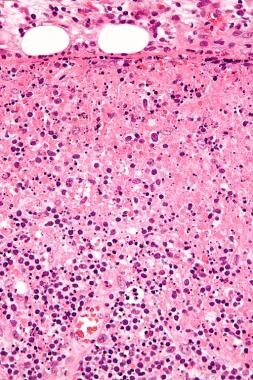 Very high magnification micrograph of histiocytic necrotizing lymphadenitis, also known as Kikuchi disease. Hematoxylin and eosin stain. Courtesy of Nephron (own work), via Wikimedia Commons.
What would you like to print?