Presentation
History
Bowenoid papulosis typically occurs in young sexually active persons. Bowenoid papulosis tends to be benign with spontaneous regression occurring within several months. [7] A more protracted course is believed to occur in older patients and, possibly, with lesions consistent with certain HPV types. These lesions may last as long as 5 years, or they may never regress completely. The lesions tend to be asymptomatic but can be inflamed, pruritic, or painful.
Physical Examination
Bowenoid papulosis presents as solitary or multiple, small, pigmented (red, brown, or flesh-colored) papules with a flat-to-verrucous surface. The bowenoid papulosis lesions can coalesce into larger plaques. Lesions occur most commonly on the shaft of the penis or the external genitalia of females (as shown in the image below), although they can occur anywhere on the genitalia and in the perianal region. [8] Of note, several cases of nongenital bowenoid papulosis have been reported. Extragenital cases have been reported as isolated bowenoid papulosis and others as extragenital bowenoid papulosis with concomitant anogenital involvement. [9, 10, 11] One such case has been reported in the oral cavity following oral-genital sex in a patient undergoing therapy for Hodgkin disease. [12] Another case describes a presentation on the nipple. [13]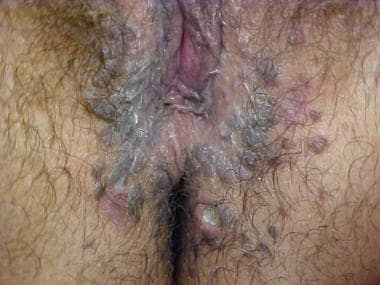 Typical appearance of bowenoid papulosis in the female.
Complications
Bowenoid papulosis has an increased potential to cause cervical neoplasia, vulvar neoplasia, Bowen disease, and invasive squamous cell carcinoma.
What would you like to print?