Workup
Laboratory Studies
Select a typical bowenoid papulosis lesion for cutaneous biopsy, and send it for routine histologic evaluation. White vinegar (5% acetic acid) application may make subclinical bowenoid papulosis lesions visible within 5-10 minutes.
Other Tests
HPV subtyping is not performed routinely in bowenoid papulosis. If subtyping the lesion is considered necessary, this can be accomplished via Southern blot hybridization, dot blot hybridization, reverse blot hybridization, or polymerase chain reaction.
Histologic Findings
Histopathologic findings with routine hematoxylin and eosin stain in bowenoid papulosis vary from those of a genital wart with a buckshot pattern to full-thickness epidermal atypia. Note the images below. This is characterized by a circumscribed epidermal proliferation composed of pleomorphic cells with clumped and irregular nuclei. Frequently, atypical mitoses and dyskeratotic cells can be present. [14] On low power, cells have nuclei that appear dark and are surrounded by a clear vacuolated cytoplasm. The integrity of the dermoepidermal border is preserved. The pattern occasionally has been described as windblown and may be identical to Bowen disease or squamous cell carcinoma in situ, occurring on nongenital skin.
Kaziouskaya et al studied the expression of p16 protein in bowenoid papulosis. After staining samples with an antibody to p16 protein, the researchers concluded that this immunostain has high sensitivity and specificity for detecting bowenoid papulosis. [15]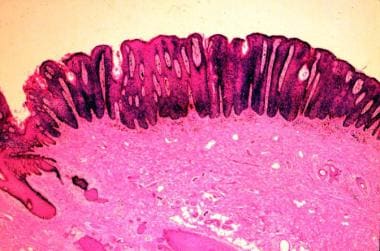 Bowenoid papulosa histopathology (hematoxylin and eosin, magnification 40X).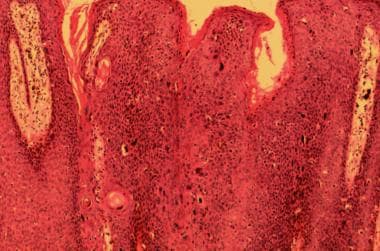 Bowenoid papulosa histopathology (hematoxylin and eosin, magnification 400X).
What would you like to print?