Presentation
History and Physical Examination
Erythema infectiosum typically has an incubation period of 4-14 days and is spread primarily via aerosolized respiratory droplets. Transmission also occurs through blood products and from mother to fetus.
Mild prodromal symptoms begin approximately 1 week after exposure and last 2-3 days. They include the following:
Headache (20% of pediatric patients)
The symptoms above occur more frequently in adults than in children, especially joint symptoms (up to 50% of adult patients).
These symptoms precede a symptom-free period of about 7-10 days, which is followed by a typical exanthem that occurs in 3 phases (although some patients may manifest no findings).
Phase 1
The exanthem begins with the classic slapped-cheek appearance. The bright red, raised erythema appears abruptly over the cheeks and is marked by nasal, perioral, and periorbital sparing, as demonstrated in the image below. [4] The exanthem may appear like a sunburn, occasionally is edematous, and typically fades over 2-4 days. [1]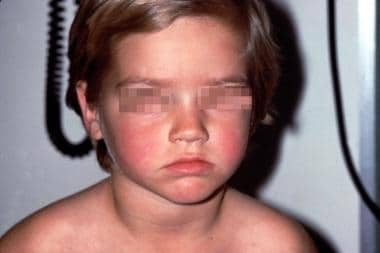 Classic slapped-cheek appearance of fifth disease.
Phase 2
This phase occurs 1-4 days later and is characterized by an erythematous maculopapular rash on proximal extremities (usually arms and extensor surfaces) and trunk, which fades into a classic lacelike reticular pattern as confluent areas clear. [4] The palms and soles usually are spared, and pruritus is rare. (See the image below.)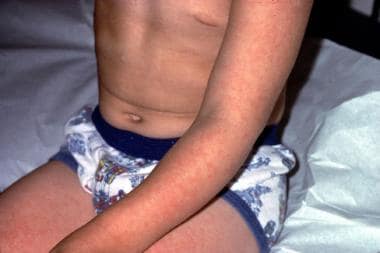 Pathognomonic reticulated, lacy-appearing eruption of fifth disease.
Phase 3
Frequent clearing and recurrences for weeks or occasionally months may occur due to stimuli such as exercise, irritation, stress, or overheating of the skin from sunlight or bathing in hot water
Exanthematous characteristics
Other features of the rash are as follows:
The rash is often pruritic, especially in adults.

Enanthems are virtually never observed.

The rash is observed in approximately 75% of human parvovirus (PV) B19–infected pediatric patients but in less than 50% of infected adults.

The patient is no longer infectious when the rash appears
Joints
When adults are exposed to PV-B19, an acute polyarthropathy is more likely to result than it is in classic erythema infectiosum. Polyarthropathy may start with a typical prodromal illness and some cutaneous aspect of erythema infectiosum but more often manifests simply by a new onset of symmetrical joint pain. Arthropathy is more common in women and can last for days to months.
The following, in decreasing order of frequency, are the most commonly affected sites:
Metacarpophalangeal and/or interphalangeal areas
Unlike rheumatoid arthritis, joint pain worsens over the day, and no joint destruction occurs. The synovial fluid is acellular and devoid of viral particles. An association with DR4 histocompatability alleles is recognized.
Other signs and symptoms
Rarely, patients may have some mild constitutional symptoms and/or adenopathy. Takeda et al reported renal involvement. [49]
What would you like to print?