Presentation
History
Physical Examination
Giant condyloma of Buschke and Löwenstein (GCBL) typically starts on the prepuce as a keratotic plaque and slowly expands into a cauliflowerlike mass, as large as 15 cm. The slow growth of the tumor, which may span as long as 20 years, is typical for immune competent individuals. The lesion may ulcerate or form a penile horn and typically is associated with a foul odor. Expansion to the corpus cavernosum and urethra may occur, with subsequent fistulation. Regional lymphadenopathy is common, primarily due to secondary infection, not metastases.
Similar slow progression is noted on perianal lesions, where it disseminates circumferentially from the mucocutaneous transitional zone to the perianal area. The anal canal itself is commonly, but not universally, uninvolved. Presenting symptoms of perirectal GCBL include perianal mass (47%), [9] fistula or abscess (32%), and bleeding (18%).The more recent advent of acquired and iatrogenic immune suppression tends to shift the occurrence of Buschke-Löwenstein tumor more towards immune-suppressed individuals, in whom the growth is commonly more rapid.
See the image below.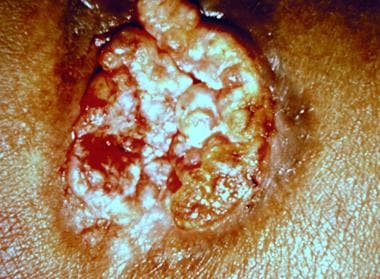 Giant condylomata acuminata of Buschke and Lowenstein of the perianal region, consisting of a slow-growing, ulcerated, cauliflowerlike mass.
During pregnancy, giant condyloma has a tendency to proliferate, which represents a treatment challenge owing to the limited therapeutic options. Successful management was obtained in one case by surgical excision alone, which was performed one month after childbirth. In rare cases, an evolution from HPV-induced vulvoperineal lesions into Buschke-Löwenstein tumor has been noted. [10]
Unusual locations, such as axillary areas, have been described.
What would you like to print?