Presentation
History
A brief prodrome of 12-36 hours duration is part of the usual presentation of hand-foot-and-mouth disease (HFMD), which consists of the following:
Low-grade fever with an average temperature of 38.3°C and duration of 2-3 days
In one study, 80% of the children presented with anorexia and mouth soreness. The enanthem usually precedes the exanthem that is asymptomatic, but both may occur simultaneously. The lesions on the hands and feet are present for 5-10 days. The mucosal and cutaneous lesions heal spontaneously in 5-7 days.
Physical Examination
Hand-foot-and-mouth disease (HFMD) is more severe in infants and children than adults, but generally, the disease has a mild course. Symptoms such as malaise, low-grade fever, and anorexia are often present. Occasionally, patients have high fever, marked malaise, diarrhea, and arthralgias.
Enteroviral infections may also cause myocarditis, pneumonia, meningoencephalitis, and even death. Infection in the first trimester may lead to spontaneous abortion or intrauterine growth retardation.
Rarely, disease recurs. One report describes a 15-year-old white boy with recurrent episodes of HFMD at 3 weeks and 7 months following the initial viral illness. [19] The lesions in the recurrent episodes were located in the same distribution as the initial presentation. His workup after the last case revealed an absence of immunodeficiency and a greater than 4-fold increase in coxsackievirus B titers. No serologic evidence of acute infection was identified, and titers of immunoglobulin G remained elevated for 1 year following this third episode.
Oral lesions begin as erythematous macules that evolve into 2-3 mm vesicles on an erythematous base. The vesicles are rarely observed because they rapidly become ulcerated. They are painful and may interfere with eating. The total number of ulcers averages 5-10. The vesicles may involve the palate, buccal mucosa, gingiva, and tongue. The tongue is involved in 44% of the cases, and, in addition to the ulcers, the tongue may be edematous and tender. Note the images below.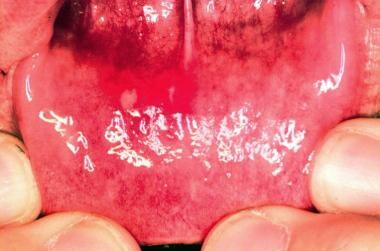 The lower lip has an ulcer with an erythematous halo.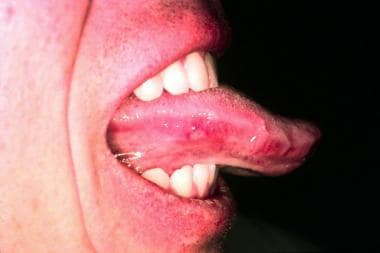 The tongue has an ulcer with an erythematous halo.
Cutaneous lesions are characteristic and are present in two-thirds of patients. Typically, the hands, feet, and buttocks are involved. The hands are involved more often than the feet, and the dorsal aspect of the hands and sides of the fingers are more commonly involved than the palmar surfaces. Each lesion begins as a 2-10 mm erythematous macule on which a central, gray, oval vesicle develops. The lesions are characteristically elliptical; their long axis parallels the skin lines. These lesions are asymptomatic and resolve in 3-7 days as a result of fluid resorption. Note the image below. Erythematous maculopapular eruptions may also occur on the buttocks and arms. In one report, 22% of the patients also had marked cervical or submandibular lymphadenopathy.
More recently, in large outbreaks of HFMD related to coxsackievirus A6 infection, patients experienced more widespread lesions, sometimes resembling eczema herpeticum; more severe systemic symptoms; larger blisters; and late-stage onychomadesis, skin peeling, and desquamation of palms and soles. [20] See the image below.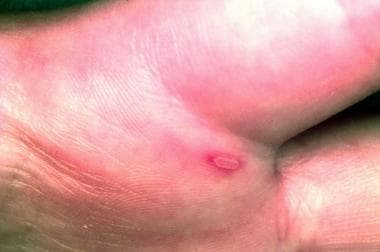 A typical cutaneous lesion has an elliptical vesicle surrounded by an erythematous halo. The long axis of the lesion is oriented along the skin lines.
A recent outbreak in Taiwan caused by coxsackievirus A6 showed patients with atypical HFMD presentations in which the patients presented with widespread, blistering mucocutaneous reactions mimicking a severe drug reaction or Stevens-Johnson syndrome. [7]
An additional outbreak in the United States in 2011-2102 also caused by coxsackievirus A6 again showed atypical HFMD presentations in which the patients presented with a vesiculobullous and erosive eruption involving more than 10% of the body surface area. This was perioral, extremity, and truncal in addition to typical hand, foot, and mouth locations. In addition, in 55% of patients, the eruption was accentuated in areas of prior eczematous dermatitis, "eczema coxsackium." Gianotti-Crosti–like (37%) and petechial/purpuric (17%) eruptions were also seen. [8]
Complications
Dehydration occasionally occurs in children with hand-foot-and-mouth disease (HFMD).
Rarely, complications of hand-foot-and-mouth disease include meningoencephalitis, myocarditis, pulmonary edema, and death.
Desquamation of palms and soles and onychomadesis may develop after the infection. [20]
A case report in 2105 reported an adult with concurrent HFMD who also developed acute unilateral maculopathy. Empirical treatment with oral corticosteroids was commenced and the inflammation resolved, leaving a residual macular scar. [21]
What would you like to print?